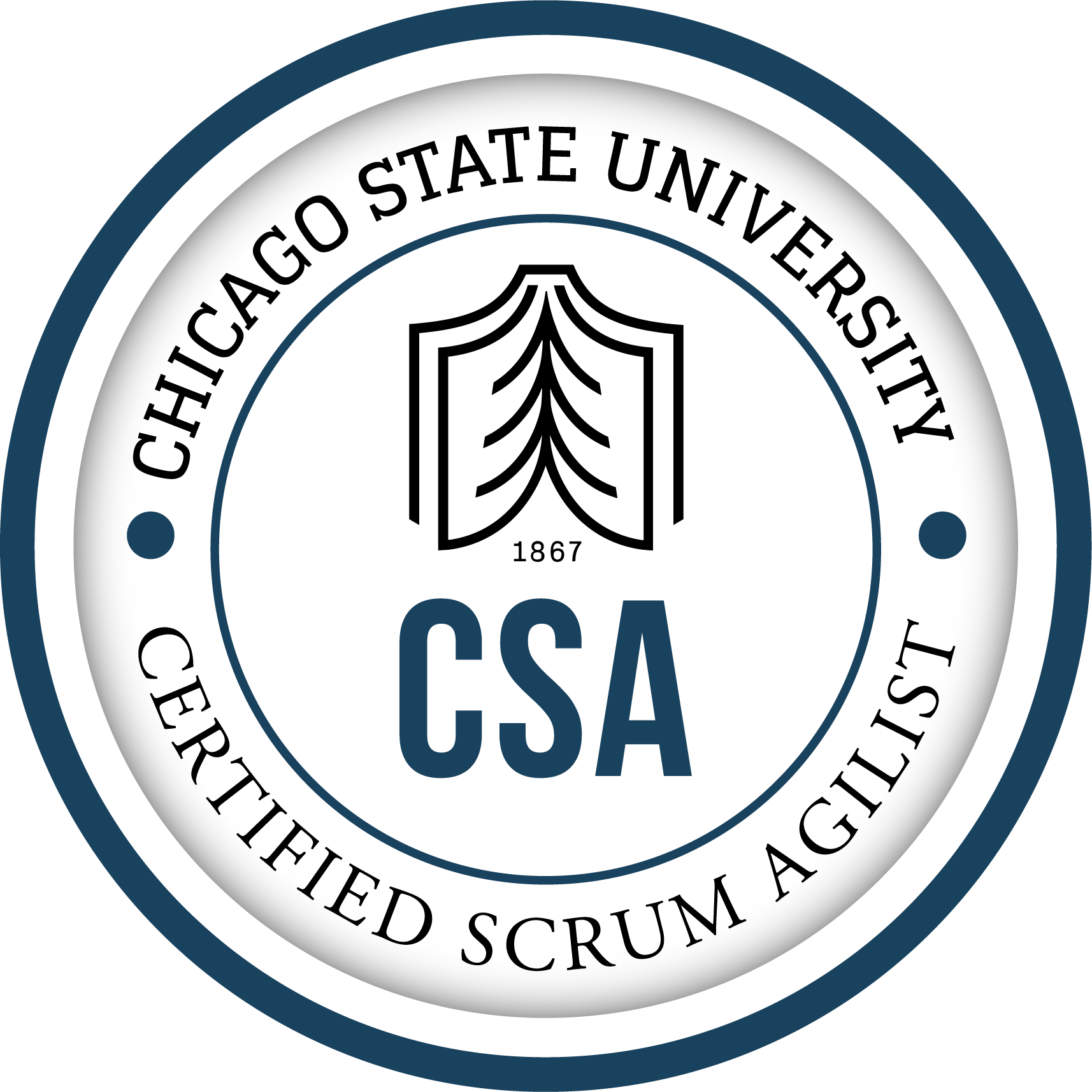 What is a Scrum Master?
The scrum master helps to facilitate scrum to the larger team by ensuring the scrum framework is followed. He/she is committed to the scrum values and practices, but should also remain flexible and open to opportunities for the team to improve their workflow.
As the title implies, the scrum master is the master of scrum, who ensures the scrum framework is followed. Scrum has a clearly defined set of roles and rituals that should be followed and the scrum master works with each member of the scrum team to guide and coach the team through the scrum framework.
Organizational benefits of a Scrum Master
Scrum Master adds credibility to the Framework of Scrum in every way possible in the modern workflow process. The implementation of Scum and its fundamentals along with authenticated principles builds an Agile Path for the organization.
The Agile Path further brings so much of calibrated tools that shape the organization on limitless success stories. These Success stories are soaring high in every Organization that has the central workflow process of the Scrum Framework.
The main reason for all these Success Stories lies somewhere behind how the Scrum Framework has been implemented and the consistency which is maintained with every task performed and monitored within it. This whole thing then takes a turn and points on the decisive roles and responsibilities of a Scrum Master.
As the role of a Scrum Master plays a key role in the implementation of Scrum Framework within the organization with core values, there are a lot of factors that associate Scrum Master and their role in scripting Success Stories.
Guidance of Team Member on Agile Development Path
For any organization, the Agile Development path is the foremost factor of success stories. The Scrum Master has a very decisive role here as the Mentor and Facilitator that guides the Scrum Team for the Product Development Process with underlying core values of Scrum implementation.
The Scrum Master adds support to the Scrum Team Member for adaptation to changes quickly. This also includes developing a culture that serves a great purpose for the Scrum Team in responding to backlogs or blockages quickly during the Product Development Process.
Delivery of Featured Products
The Consistency of Product Delivery and assurance featured Product being delivered within time plays a prime role in end-user satisfaction. This implies positive aspects of improved performance with continuous success rates for the Organization.
The Scrum Master thus plays a crucial role here as well in the Product Development Process and successful delivery of it. This helps the team members to remain on an Agile Path with the Product Development process that helps to deliver featured products consistently with efficiency.
Outcomes of Collaborative Approach
The Outcomes of the Collaborative approach in the workflow serve a great purpose in the consistent Success Stories. The participation of every member in team activities and their engagement in cooperative coordination helps in solving impediments as well as contributes to personal growth as well.
The Scrum Master helps the team members to have a better understanding and coordination among themselves, which brings effective changes with results. Thus, the Scrum Master helps the team member to invoke a purpose that makes the team have a collaborative approach. By virtue of this, the Scrum Master allows the Organization to have a work environment in which the team nurtures and flourishes.
Aspects as a Change Agent
Being a Change Agent, one brings the culture to the organization that helps other members to adapt to changes quickly. This is of great significance for the team members to build an ability that is vital in making critical decisions for making the growth in the adverse environment as well, with Consistency.
The Scrum Master acts as a change agent in the Organization who consistently invokes the change in culture on the requirements of the project development process. This not only improves efficiency but also helps the Organization to be on the path of success in an adverse environment.
Role as a Servant Leader
The Servant leader has the main goal to serve, which means they share their reform plans, Power, Experience, guidance, etc. as a leader to help the team member with continuous growth within an organization. A good Servant leader prioritizes the needs of the team member first so they can flourish and develop themselves.
Scrum Master is not only a mentor but also the leader of the Scrum Team. Being the leader, the Scrum Master plays a vital role as a Servant Leader, which makes the Scrum Team develop themselves and be consistent with an Agile Path.
Individual Benefits of Being a Scrum Master

Get a High Level of Preciseness in Executing Scrum
Implementation of Scrum Framework in the Organization is the prior task of a Scrum Master. The Preciseness with which the Scrum Master implements the Scrum Framework and allows the team to adapt and work on the fundamentals of Scrum Framework decides the growth rate of an Organization up to extents.
This helps in bringing a high level of accuracy as an individual in mastering the Scrum with each technique that helps the other member reap benefits from it.
Contribution to the Creation of Healthy Work Culture
As a Scrum Master, you have the key responsibility to lead, Mentor, and facilitate the Scrum Team on the various principles of the workflow process. This is where you bring a culture and changes which help you as well as your team member to grow on the Agile Path.
Perseverance of Self Motivation and Self Engagement
Scrum Master has the role of encouragement and motivation for the Scrum team members. This is of great use from a personal perspective as well that keeps themselves motivated and engaged with positivity all around. This also includes the Scrum Master to build the immune which doesn't let them get distracted from any kind of distraction.
The Scrum Master Role
The role of Scrum Master can be temporary or permanent, depending on the organization's needs. Larger businesses with multiple agile teams might want to keep a Scrum Master on staff to help oversee the method long term, but sometimes the position is temporary or contracted. For most businesses, especially midsize and small organizations, it's more useful to hire a Scrum Master on a contract basis to help get an agile team up and running. Scrum Masters aren't just responsible for organizing a scrum team; they also help the company embrace agile as a culture shift. To properly implement the scrum framework, a Scrum Master needs to encourage buy-in from employees and key stakeholders.
Agile Coach Responsibilities
Agile coaches pull from their own background in project management, IT, and other related fields to understand what will work for the business. Since some employees might be unfamiliar with agile, it's important to focus on the fundamentals and to make the agile framework accessible to everyone. Part of the job is leveraging experience and teaching the basics to bring people up to speed with an agile way of working. As an agile coach, you'll need to have strong communication and interpersonal skills, since you'll be working closely with employees across the entire company, including leadership. Chances are, you'll find it difficult to convert some workers to the agile methodology. In these instances, you'll need to know how to navigate the corporate culture to help the organization realize its goals. A good coach knows how to work with the team and the leadership to change the environment. Managers and management are often quite resistant to agile because it fundamentally challenges their power and control. The coach works with the leadership to see the future and be patient along the journey. The coach also works with the team to help them transform to being self-managing and accountable. These are big changes. Most common responsibilities for an agile coach include:
Coach agile teams in the Agile mindset
Integrate related Agile methods and best practices within the company
Develop standards and requirements for the agile process
Provide training to employees on the agile process
Help teams navigate agile tools and software
Encourage employee and stakeholder buy-in
The most important skills for an agile coach include:
Soft skills such as active listening, trust, conflict management, servant leadership, emotional intelligence, mentoring, facilitation, change management, teaching, and powerful questions
Strong understanding of Scrum and Kanban
Experience as a Scrum master or any other role in Agile team
Strong communication and problem-solving skills
Interpersonal skills and patience
Agile Coach Compensation
Agile Coaches earn between $85/Hour to $135/Hour ($161,500 to $256,500 annually) if they work on a contract basis. For full time employees, earnings between $110,000 and $180,000 with benefits is prevalent within the US. Demand for Agile Coaches is expected to rise much faster than other IT roles. Experience, training and certifications, location, and industry are several factors that would impact expected earnings of Agile Coaches. Agile Coaches do work in one or more of the following roles:
Agile Coach
Scrum Coach
Agile Team Lead
Lean Coach
Senior Agile Coach
Scrum Master/Agile Coach
Past Participants
Past participants of our Certified Agile Coach (CAC) training program came from variety of industries, including healthcare, banking, finance, credit card issuers, retail, oil and gas, manufacturing, distribution, transportation, communication and internet, energy, computer manufacturers, consulting firms, credit bureaus, network manufacturers, software, hardware, government organizations, satellite manufacturers, credit unions, and oil refineries to name several. Here are few of the 220+ organizations that our past participants represented: Walmart, Kroger, Target, Accenture, USAA, Shell, ExxonMobil, Citibank, Master Card, Visa, Duke Energy, Bank of America, IBM, FedEx, Aetna, Anthem, CVS, Walgreens, Tesla, Verizon, Infosys, Wells Fargo, Bank of America, CapitalOne, USPS, US Bank, Blackrock, CBRE, TD Ameritrade, Wipro, Micron, Fannie Mae, Freddie Mac, Discover, Chevron, Ford, HP, Allstate, State Farm, Desjardins, Petrobras, Enterprise, US Coast Guard, US Department of State, UHG, FDA, SAIC, BCBS, HCSC, PepsiCo, Dell, PETCO
Training opportunities for Agile Coaches
We at Chicago State University offer several career enhancing training programs for Certified Agile Coaches. Agile Coaches can pursue to attend one or more of the following training offered by us:
Certified Agile Facilitator (CAF)
Certified Enterprise Agility Coach (CEAC)
Certified Agile Transformation Coach (CATC)
Certified DevOps Transformation Coach (CDTC)
Certified Business Agility Coach (CBAC)
Certified Agile Leadership Professional (CALP)
Certified Agile Change Practitioner (CACP)
Certified Servant Leader Practitioner (CSLP)
Certified Emotional Intelligence Practitioner (CEIP)
Enterprise Agility Coaches can earn a Master's Certificate in Agile Management (MCAM) by completing training programs 1-4 in addition to Certified Agile Coach (CAC) training. They can further their advancement by earning Advanced Master's Certificate in Agile Management (AMCAM) by completing training programs 5–9. Both the Master's Certificate in Agile Management (MCAM) and the Advanced Master's Certificate in Agile Management (AMCAM) are the first and only such programs in the world!
Eligibility for Master's Certificate
Completion of this Certified Agile Coach (CAC) training program fulfills 20% of the requirement to earn Master's Certificate in Agile Management (MCAM). Participants are required to complete total of five Agile Training Programs from Chicago State University (CSU) to earn their Master's Certificate in Agile Management—the world's first and only program in Agile field!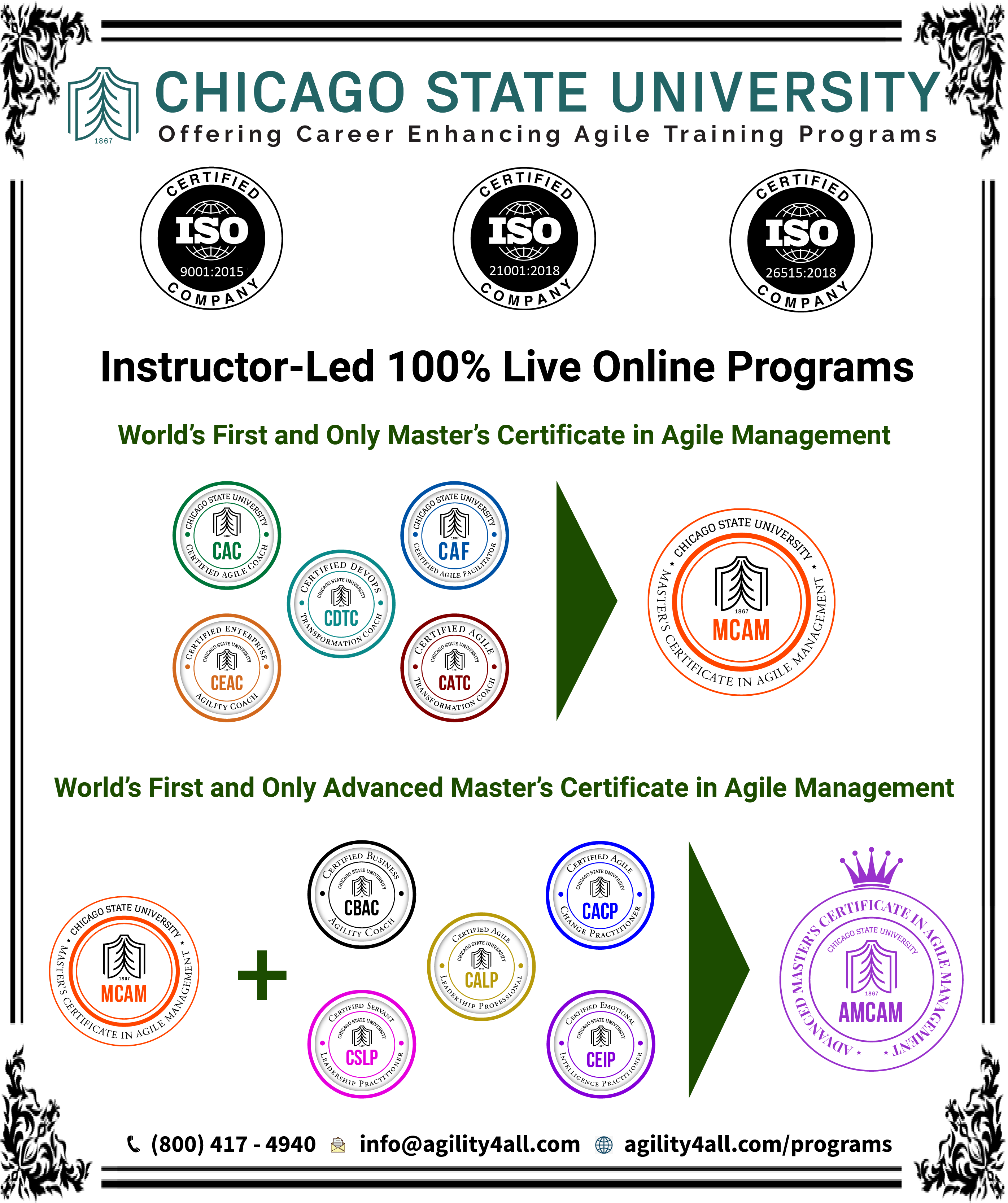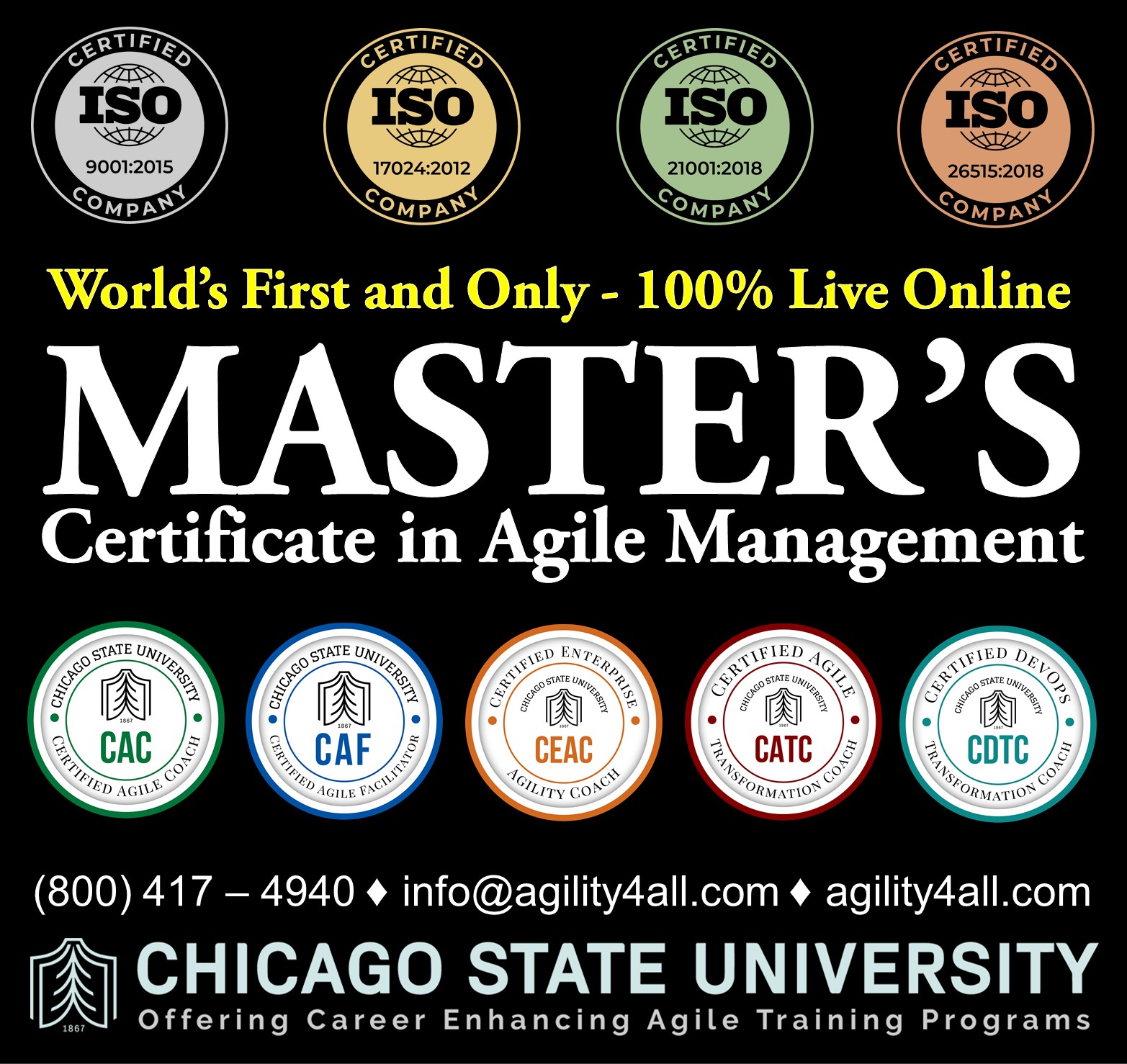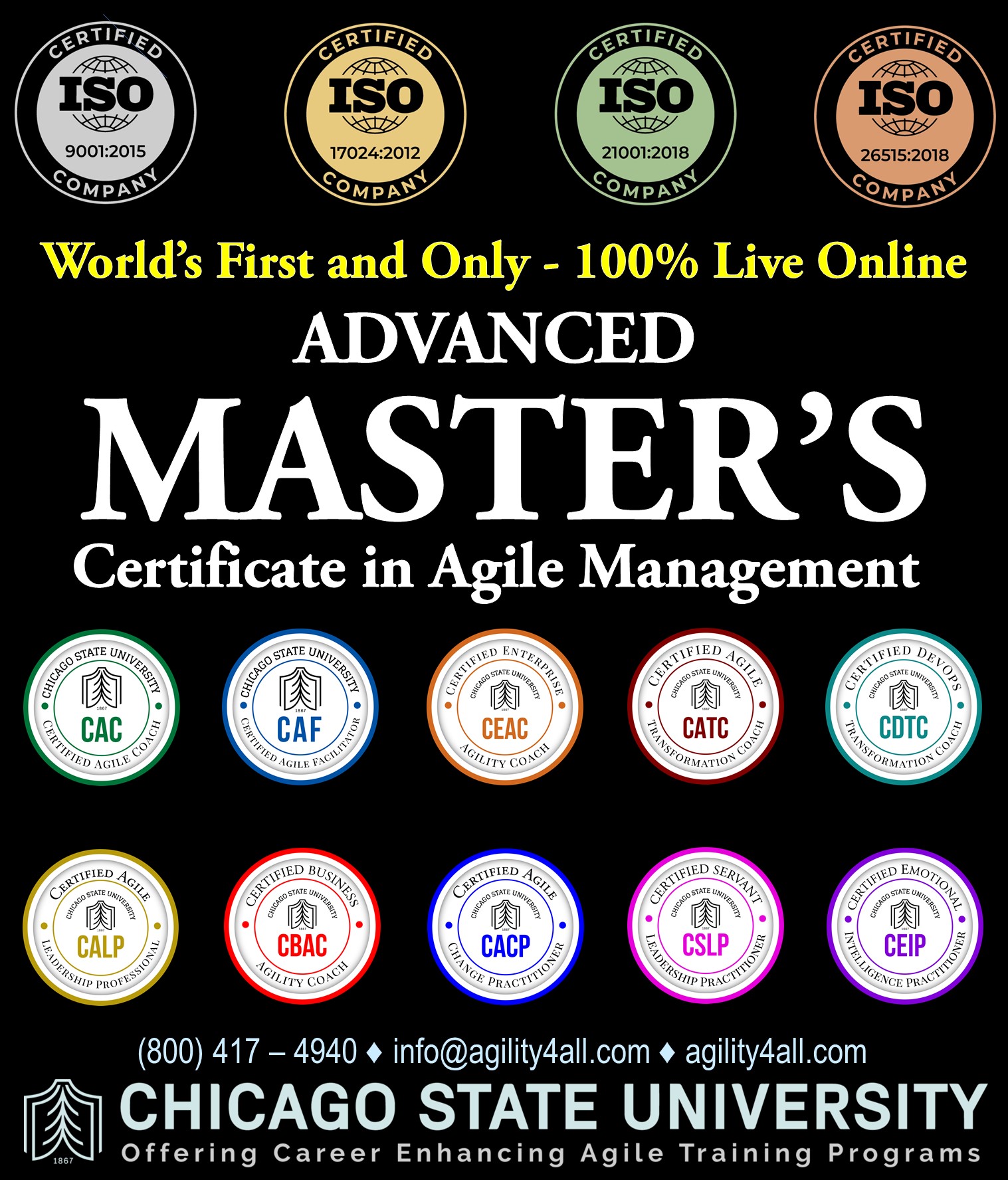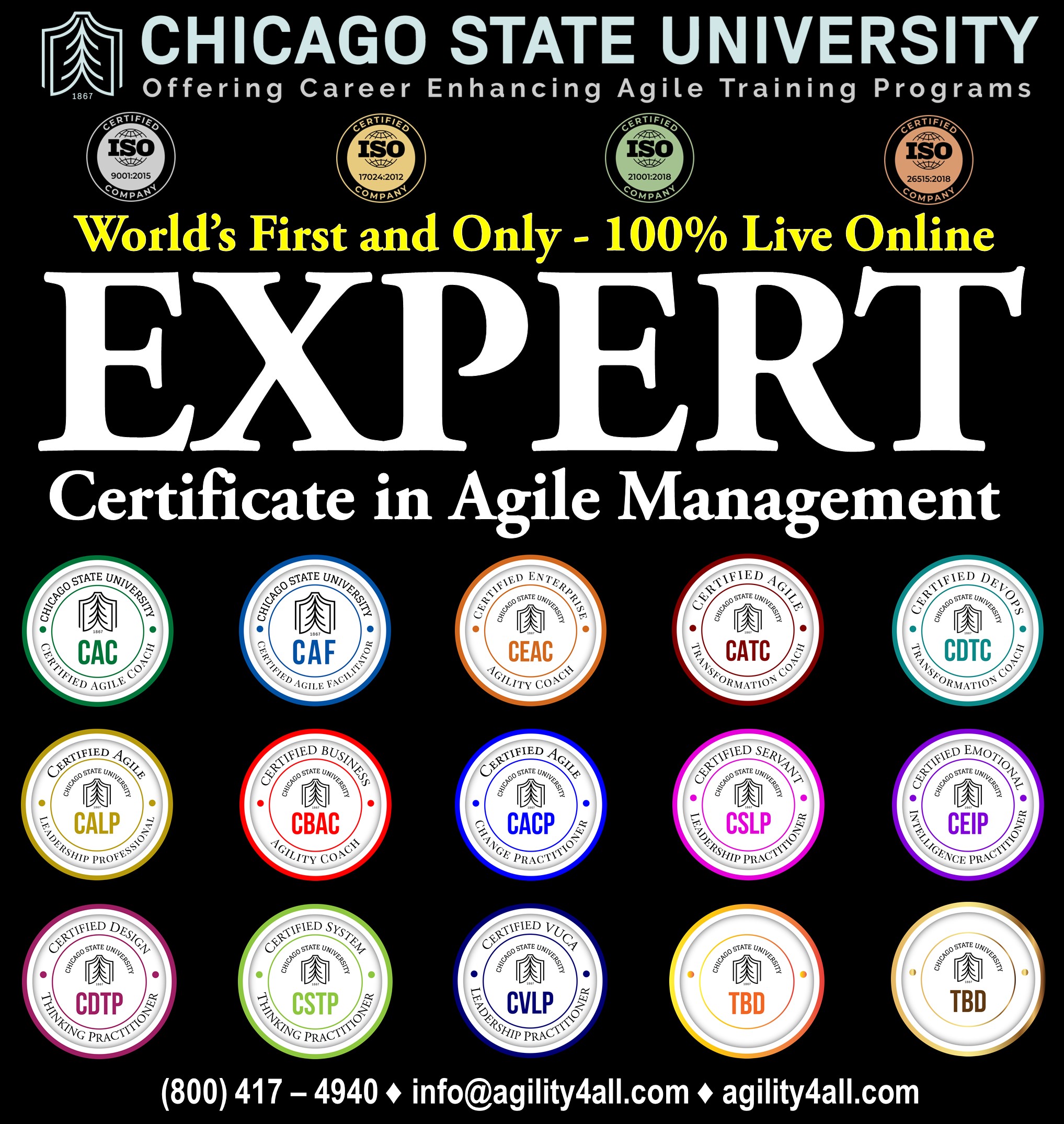 Certified Scrum Agilist (CSA)
General Information:
Type: Certification
Level: Intermediate
Time: Weeks
Cost: Paid
Verification:
Name: Milan Thakkar
Course Schedule: July 24 – 25, 2021
Completion Date: July 25, 2021
Total Training Hours: 15
Certificate Number: 60-429-9457-56169
ISO Accreditation and Certification:
ISO 9001:2015: Yes
ISO 17024:2012: Yes
ISO 21001:2018: Yes
ISO 26515:2018: Yes
Information: This Certified Agile Coach (CAC) training program and all other Agile training programs from Chicago State University (CSU) are ISO 9001:2015, ISO 17024:2012, ISO 21001: 2018, and ISO 26515:2018 accredited and certified.
What is the purpose of ISO?
ISO (International Organization for Standardization) is an independent, non-governmental, international organization that develops standards to ensure the quality, safety, and efficiency of products, services, and systems.
How does ISO define quality?
The term "quality" has a relative meaning. This is expressed by the ISO definition: "The totality of features and characteristics of a product or service that bear on its ability to satisfy stated or implied needs"
Benefits of ISO
Some of the main benefits of ISO 9001 certification include:
Suitable for both small and large organizations.
Better internal management.
Less wastage.
Increase in efficiency, productivity and effectiveness.
Improved customer retention and acquisition.
Consistent outcomes, measured and monitored.
Globally recognized standard.
What is the meaning of ISO 9001:2015?
ISO 9001:2015 specifies requirements for a quality management system when an organization:
a) needs to demonstrate its ability to consistently provide products and services that meet customer and applicable statutory and regulatory requirements; 
b) aims to enhance customer satisfaction through the effective application of the system, including processes for improvement of the system and the assurance of conformity to customer and applicable statutory and regulatory requirements.
All the requirements of ISO 9001:2015 are generic and are intended to be applicable to any organization, regardless of its type or size, or the products and services it provides.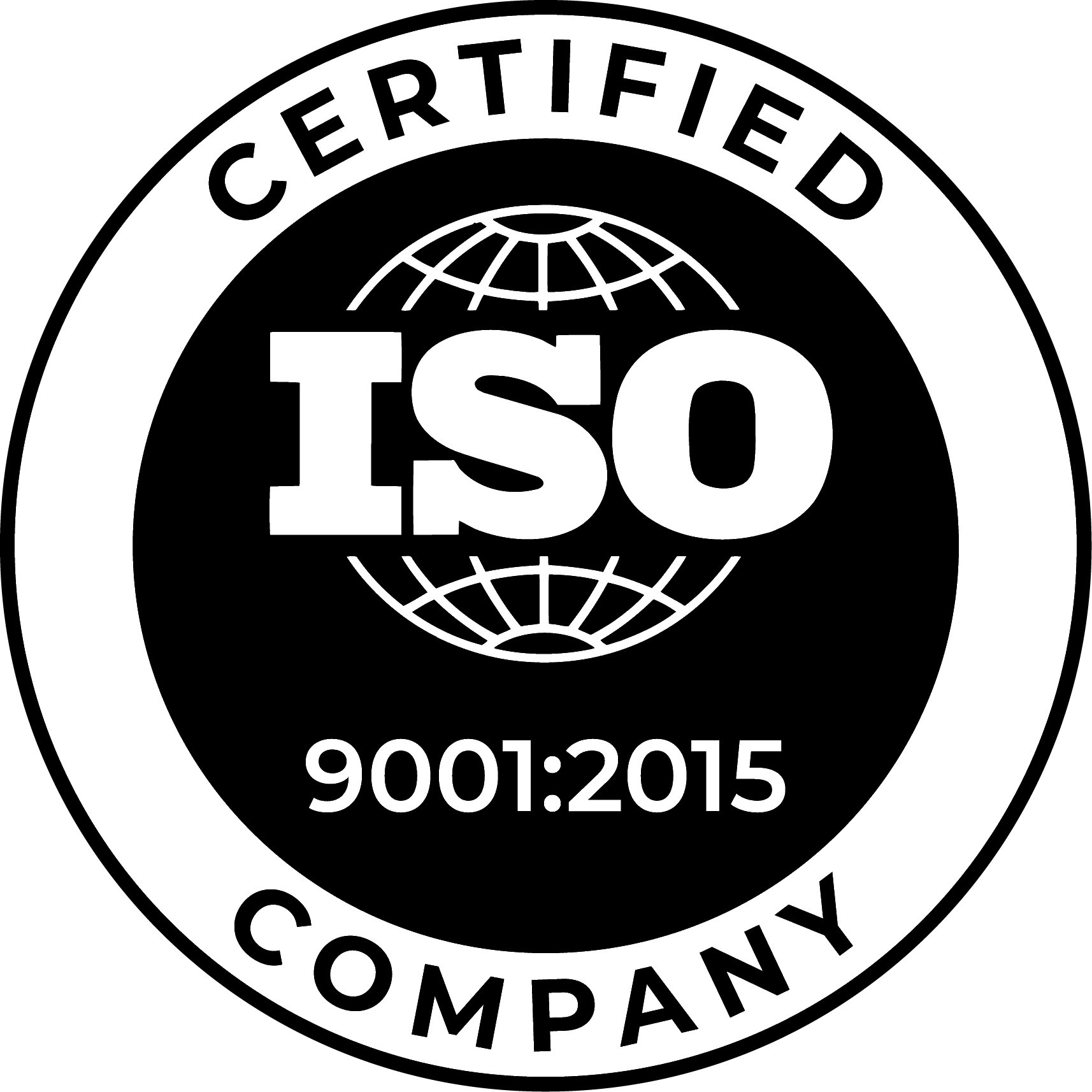 What is the meaning of ISO 17024:2012?
ISO/IEC 17024:2012 contains principles and requirements for a body certifying persons against specific requirements, and includes the development and maintenance of a certification scheme for persons. The nature and complexity of the IT industry/Agile Industry has created hundreds of training courses and qualifications over the years. Many are vendor-specific and – in terms of training staff to configure and operate these products – provide a perfectly adequate demonstration of knowledge and skills. They are, however, often linked to the purchase of products and, as such, are subject to the commercial bias of a very competitive IT marketplace.
ISO 17024:2012 – recognized by employers worldwide
Independent and accredited exam bodies such as ISACA, (ISC)2, Chicago State University's Agile Training Programs, CompTIA, APMG, and IBITGQ have been created to counteract the commercial bias of vendors, and to provide consistent and comparable qualifications on an international basis. But who verifies the independence and quality of the courses and exams offered by these organizations?
The ISO/IEC 17024:2012 standard (Conformity assessment – General requirements for bodies operating certification of persons) specifies that accredited exam bodies:
Meet a global, industry-recognized benchmark
Are consistent, comparable and reliable worldwide
Demonstrate that holders have the necessary knowledge and skills
Are validated to ensure they are recognized by employers and peers
Employers and training development managers recognize the value of ISO 17024:2012, and it's no coincidence that the careers of Agile Practitioner are built on the foundations of ISO 17024:2012 qualifications.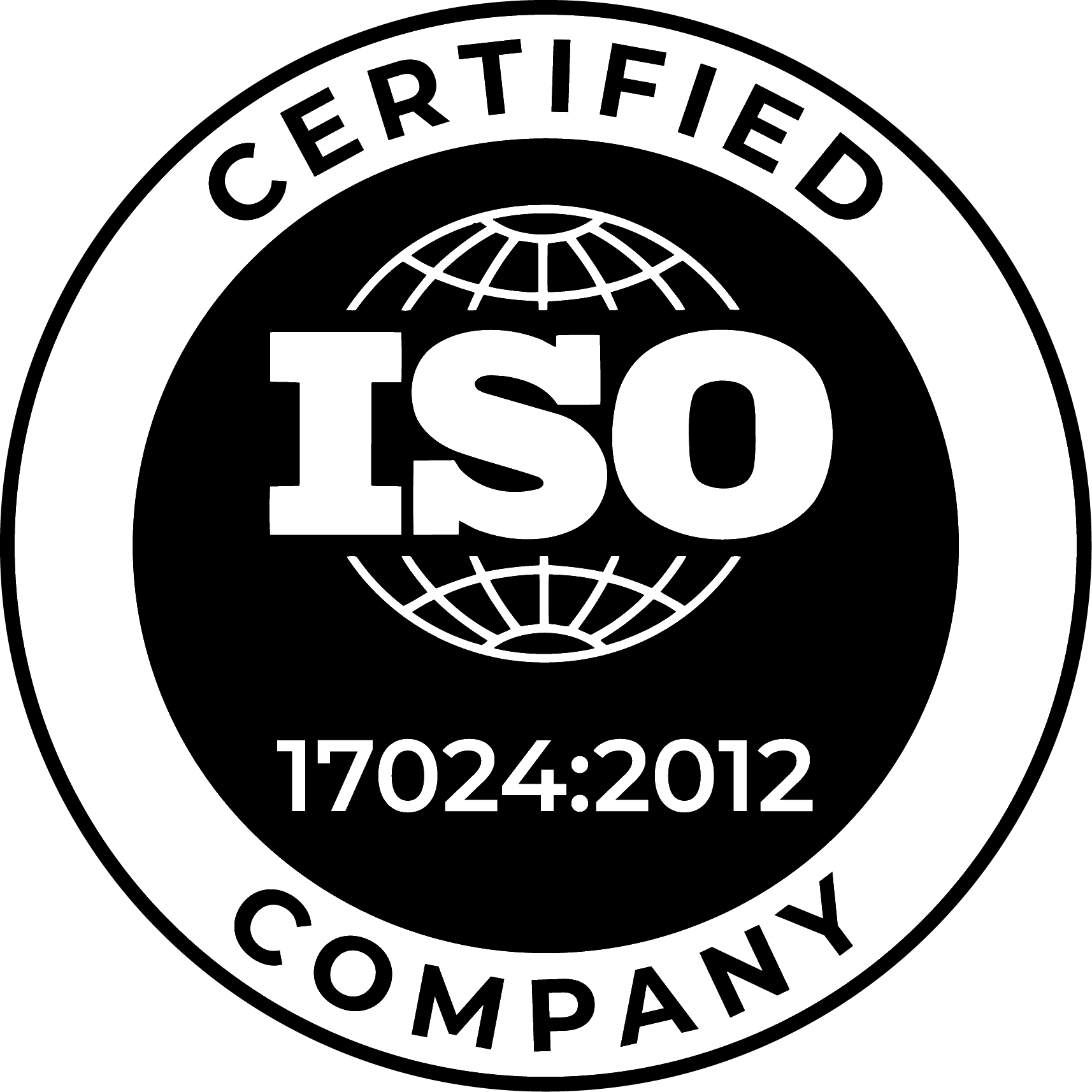 What is the meaning of ISO 21001:2018?
ISO 21001:2018 specifies requirements for a management system for educational organizations (EOMS) when such an organization: a) needs to demonstrate its ability to support the acquisition and development of competence through teaching, learning or research; b) aims to enhance satisfaction of learners, other beneficiaries and staff through the effective application of its EOMS, including processes for improvement of the system and assurance of conformity to the requirements of learners and other beneficiaries. All requirements of ISO 21001:2018 are generic and intended to be applicable to any organization that uses a curriculum to support the development of competence through teaching, learning or research, regardless of the type, size or method of delivery. ISO 21001:2018 can be applied to educational organizations within larger organizations whose core business is not education, such as professional training departments.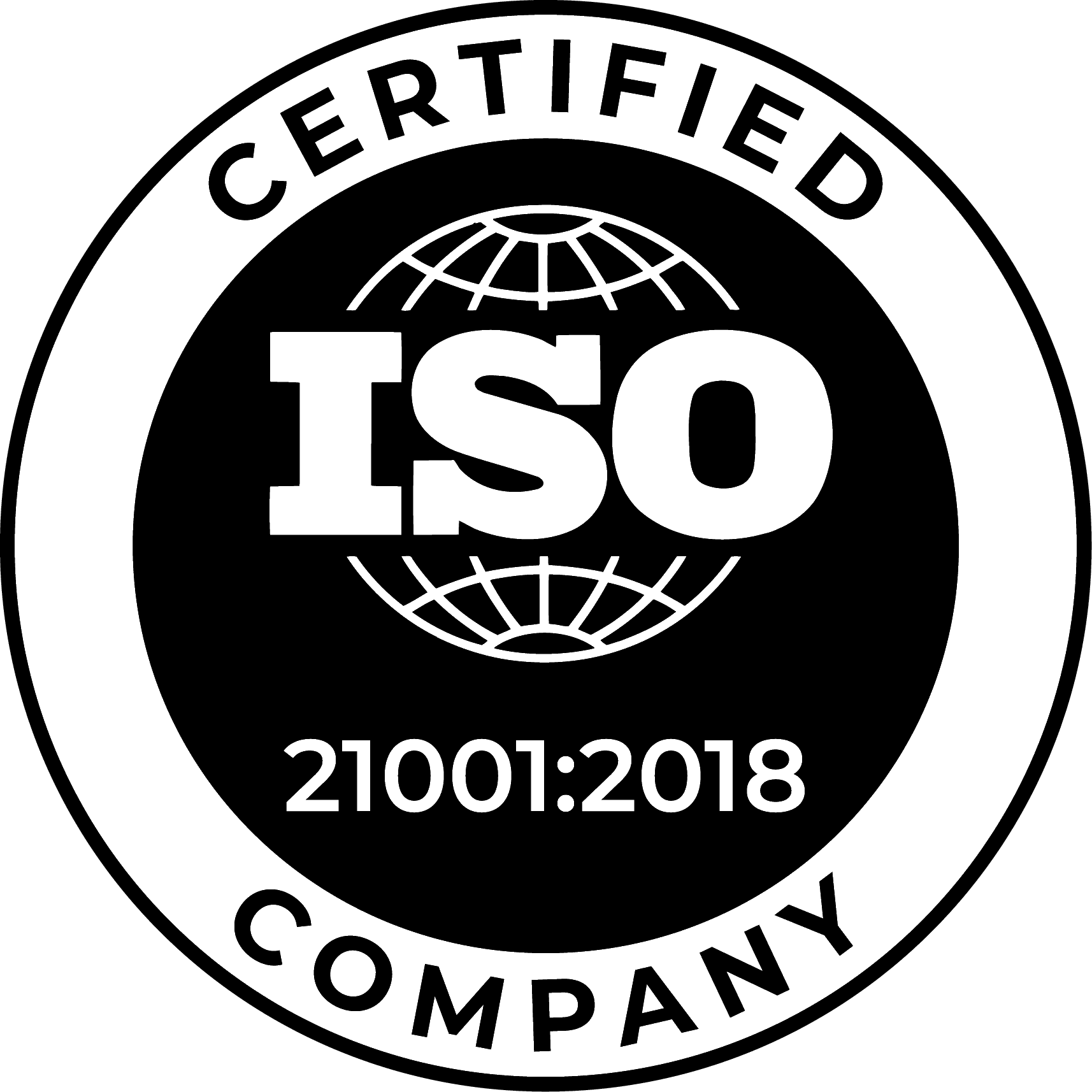 ISO 26515:2018 Systems and software engineering — Developing information for users in an agile environment
This standard supports the interest of information developers and associated roles responsible for producing information for users of software and systems developed within an agile environment. This standard takes a process standard approach to specify the way in which information for users can be developed in agile development projects.
This standard provides requirements of information management and information development processes appropriate for software projects that are using agile development methods.
It covers:
The overall requirements for information in agile software development.
Requirements for the information development lead or project manager to plan an agile information development project and manage the information development activities in an agile environment.
Requirements for designing, developing, and providing information for users in an agile environment.
Describes agile development practices and methods.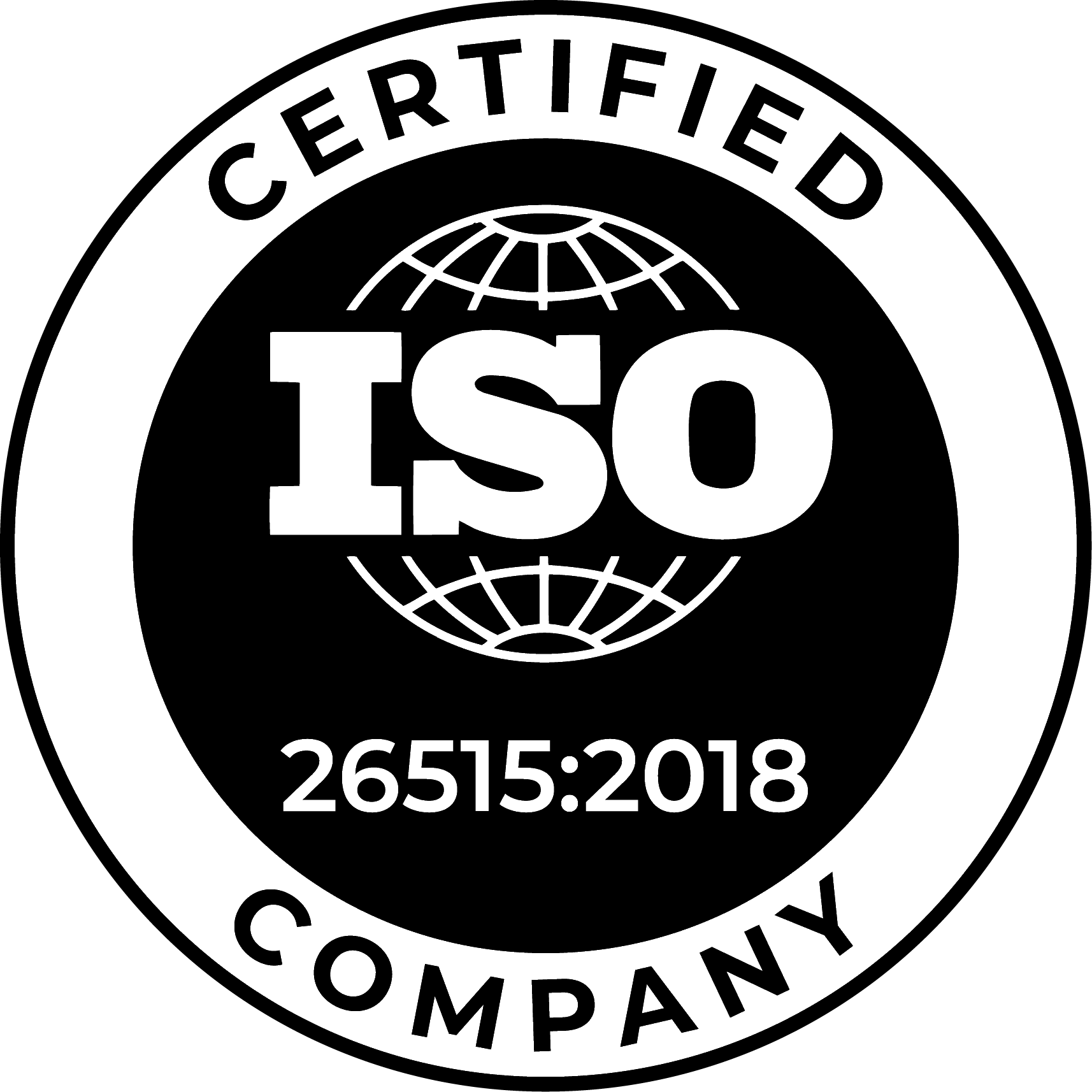 Skills:
Agile
Agile Manifesto
Lean
Business Agility
Scrum Master Competencies
Facilitation
Active Listening
Feedback
Transparency
Servant Leadership
Emotional Intelligence
Clarity of Information
Mentoring
Conflict Management
Trust
Teaching
Facilitation
High Performance Teams
Team Building
Certificate Earning Criteria:
Attendance in the training course
Active participation in training course – Group Activities, Quizzes, Group Discussions, Q & A, Comments, etc.
CEUs Eligibility:
PDUs from PMI – 15 [PMP, PgMP, PfMP, ACP, and PBA certifications]
SEUs from Scrum Alliance – 15 [CSP-SM, CSP-PO, CSM, CSPO certifications]
CDUs from IIBA's – 15 [CCBA and CBAP certifications]
Course Description:
About Training
The Agile Coaching Workshop is an instructor-led, live online training program that is offered in 10 sessions. Each session is one and half hours in duration. This training is unique and one-of-a-kind, and it focuses on both the areas of "being agile" and "doing agile". This is a highly interactive workshop that makes ample use of discussions and exercises to help participants hone essential coaching skills like self-awareness, coaching stance, mentoring, facilitation, active listening, powerful questioning and coaching for action. The course explores real-world scenarios/situations and challenges, and helps you devise powerful solutions. It will help the learner differentiate between teaching, mentoring, facilitating, consulting, and coaching, and will help him/her gain the skills needed to create a safe environment for meaningful collaboration and healthy conflict resolution within an agile team. Whether the coach is internal or external to the organization, agile coaching covers a broad spectrum that covers teaching, mentoring, problem solving, planning, leadership, team building and mastery of skills and knowledge. Agile coaches must challenge organizations to change culture for establishing new paradigms which permit agile-lean thinking and quickly deliver value. A coach must be competent, professional, and ethical, having business and technical knowledge and an understanding of the change and the impact it has on individuals and organizations. Some of the elements that participants will learn during the workshop:
The various roles, skillsets and disciplines of an Agile coach – coaching, facilitating, mentoring, teaching and how to develop "your style," moving in and out of those roles while remaining flexible, open and confident.
The philosophy behind servant leadership and practices and techniques to enable you to become a true servant leader; putting the needs of others first to facilitate the development of high-performance teams.
Agile Coach Thinking – the mindset shift necessary to help you, and others, focus on team improvement, value-driven delivery, and leveraging constraints while living in the present moment, staying curious, innovative and having fun.
Ways to establish mutual trust allowing you to create a safe, supportive environment in which your team can excel.
Active listening and powerful questioning techniques utilized to leverage your ability to focus on what is being said and maximizing communication and collaboration through seeking and receiving information.
Learning Objectives
Mastering agile coaching skills will require both time and practice. This workshop will enable you to:
Understand and utilize the key skill areas and knowledge areas applied by the best agile coaches.
Create healthy teams that are resilient, creative, resourceful and resonant.
Listen fully and ask essential, powerful questions that open up new possibilities and propel people into action.
Clearly ascertain the distinction between coaching and mentoring and know when to apply each of these most successfully in any given situation.
Understand how to address the dysfunctional approaches to conflict that teams often develop.
Coach and mentor people through all kinds of change, especially the change required to occupy agile roles fully.
See the broader organizational context more clearly and determine the best interventions, and best actions to create a positive impact.
You'll walk away from the course with your personal coaching improvement backlog – a tangible plan you can use to thoughtfully improve your coaching when you're back on the job.
You'll have many new things to try with your teams and you will probably depart with a few provocative ideas to chew on or to wrangle with for a while. All of these outcomes add up to your ability to become the excellent agile coach your teams and organization needs.
Topics Covered
Introduction to Agile
Scrum Terminologies and Concepts
Scrum Roles
Scrum – Core Competencies

Facilitate Scrum Teams

Improve Transparency

Act as a Servant Leader
Pre-requisites
Knowledge of Agile Manifesto and Agile Methods (Scrum, Kanban, XP) would be helpful.
Interested to work in team environment with team members.
Willingness to learn and apply soft skills to teams.
Curious, eager, patient, and calm.
Who should attend?
This course is designed for:
Project, Program, and Portfolio Professionals who aspire to take up the role of an Agile Coach.
Scrum Masters, BAs, QAs, Agile Project/Program Managers or Iteration Managers who want a more comprehensive understanding of the complete range of business and Agile coaching skills.
Agile coaches who want to enhance and improve their professional skills as Agilists and professional coaches.
Coaches who wish to increase the ability to break through seemingly insurmountable problems with their teams.
Agile managers, product owners, and others wishing to access a broader range of skills in working with teams.
Skilled coaches who wish to polish their skillsets and learn a few new tricks and techniques.
Functional managers or Scrum Masters with some experience as an Agile coach, but when Agile seems like it is not working for your teams.
Someone coaching or mentoring Agile teams that get caught in a rut or just going through the motions and not making progress.
Contact Information:
Phone: (800) 417-4940
Email: info@agility4all.com
Corporate Training Inquiry: training@agility4all.com