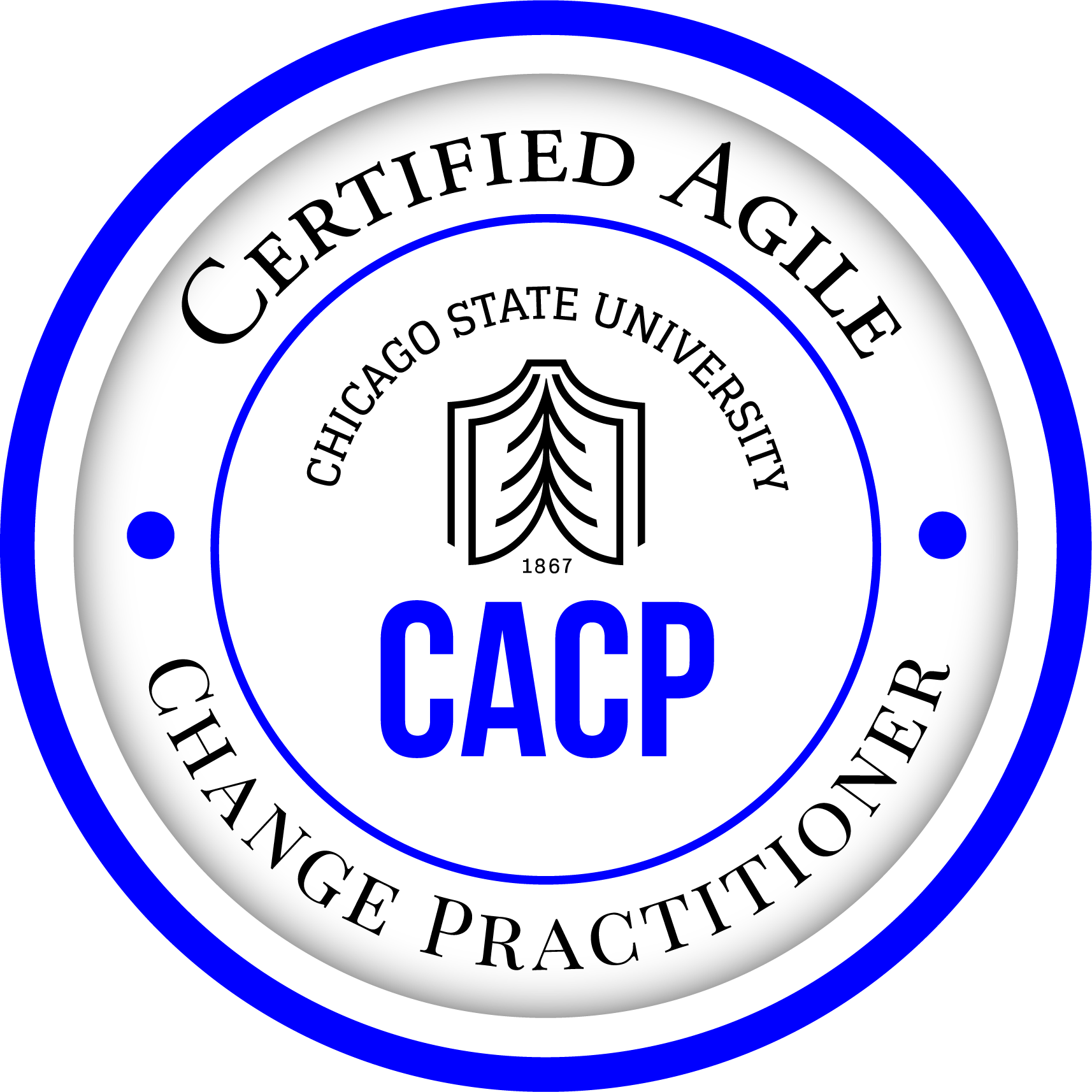 What is Agile Change Management?
The management of change (Change Management) can be defined as the sum of all the measures we take, both individually and collectively, to move from a current state (As Is) to a desired future state that will predictably be better (To Be).
Darwin said: "It is not the strongest species that survive, nor the most intelligent, but the most responsive to change." This is true for all species, and also for businesses as well. Properly managing change and the impact that change has on normal business operations is a key element in the evolution of all organizations. And, in an environment of uncertainty, rapid technology development, and seemingly never ending crisis, the challenge of adapting to change is critical to overcome if you want to survive.
Change is considered successful to the extent that people understand it and incorporate it into their new daily lives, which is why the focus of change management is on people. To lead change effectively, a combination of interpersonal skills, such as empathy and communication, the ability to influence, and the insight into systemic view of an organization, are necessary. Understanding that isolated solutions cannot be applied and that everything is connected is a fundamental.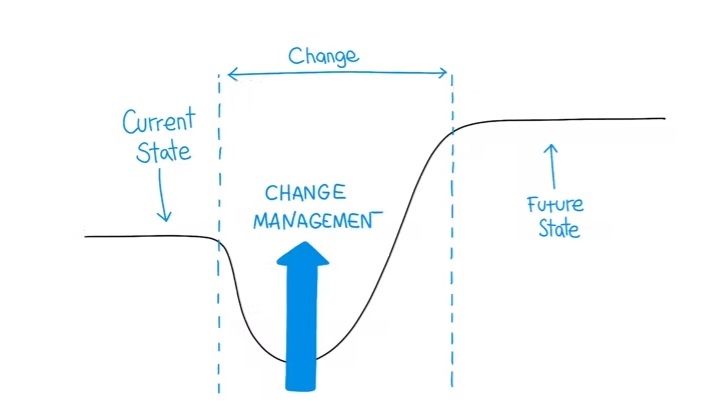 Why is Agile Change Management important?
Within the VUCA world in which we live, adaptability (the ability to react to changes) is paramount. We must be able to adapt quickly and efficiently to new scenarios and create new opportunities in environments with high uncertainty. These are the opportunities that an organization can take advantage of to gain  significant competitive advantages.
For this reason, the Change Management competence, as it has been traditionally called (although perhaps it would be more appropriate to call it change leadership), is now a core competence that must be a central focus in people and in organizations if they want to successfully face the inevitable volatility and uncertainty.
Properly managing a change is directly related to how quickly we learn from it. The concepts of change and learning will always go hand in hand. Those who are more open to learning new things and letting go of the way things have always been done will be more prepared for change. Learning to learn,  being open to learning, and creating a system in which learning can emerge is a basic obligation to allow the adaptability of organizations. Especially in times of uncertainty, the best investment of time we can make is to learn.
Characteristics of Agile Change Management
Uses continuous processes with measurable goals to be achieved in a predetermined time
Collaborative and integrated workflows
Focused on team initiatives
Self-organization and self-management
Seeks to achieve business goals quickly and without abandoning strict quality criteria
Constant and transparent feedback
An attentive "out of the company" look and the perception of the final delivery to the customer
Organizational benefits of an Agile Change Management
Agile change management enables companies to drive growth while optimizing costs and at the same time improving efficiency and competitiveness with the goal of achieving more business agility with the ability to react quickly to new scenarios.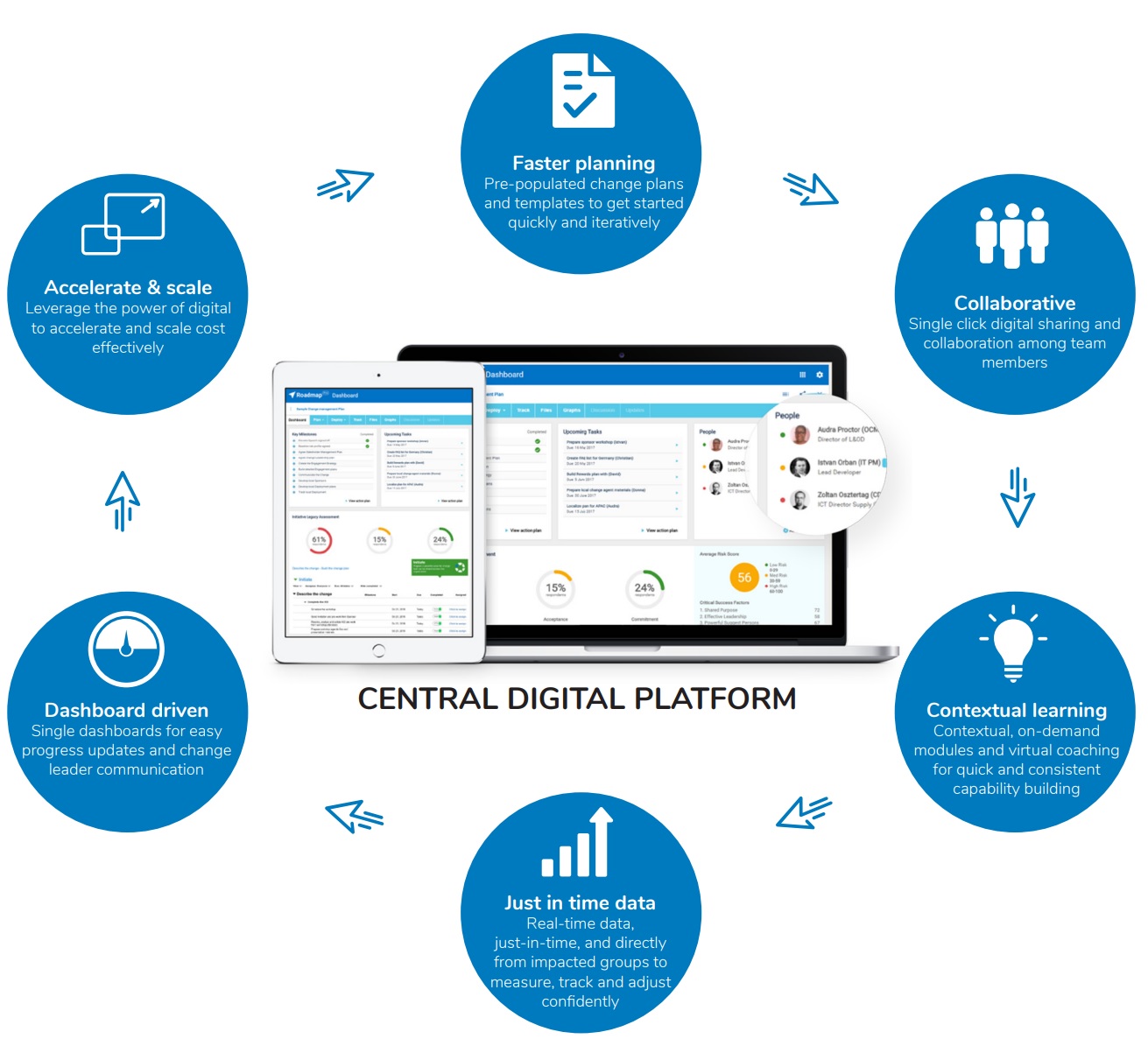 The Agile Coach Role
The role of agile coach can be temporary or permanent, depending on the organization's needs. Larger businesses with multiple agile teams might want to keep an agile coach on staff to help oversee the method long term, but the position is typically temporary or contracted. For most businesses, especially midsize and small organizations, it's more useful to hire an agile coach on a contract basis to help get an agile team up and running and later parting ways once everyone has adjusted.
Agile coaches aren't just responsible for organizing an agile team; they also help the company embrace agile as a culture shift. To properly implement the methodology, an agile coach needs to encourage buy-in from employees and key stakeholders.
Agile Coach Responsibilities
Agile coaches pull from their own background in project management, IT, and other related fields to understand what will work for the business. Since some employees might be unfamiliar with agile, it's important to focus on the fundamentals and to make the agile framework accessible to everyone.
Part of the job is leveraging experience and teaching the basics to bring people up to speed with an agile way of working.
As an agile coach, you'll need to have strong communication and interpersonal skills, since you'll be working closely with employees across the entire company, including leadership. Chances are, you'll find it difficult to convert some workers to the agile methodology. In these instances, you'll need to know how to navigate the corporate culture to help the organization realize its goals.
A good coach knows how to work with the team and the leadership to change the environment. Managers and management are often quite resistant to agile because it fundamentally challenges their power and control. The coach works with the leadership to see the future and be patient along the journey. The coach also works with the team to help them transform to being self-managing and accountable. These are big changes.
Most common responsibilities for an agile coach include:
Coach agile teams in the Agile mindset
Integrate related Agile methods and best practices within the company
Develop standards and requirements for the agile process
Provide training to employees on the agile process
Help teams navigate agile tools and software
Encourage employee and stakeholder buy-in
The most important skills for an agile coach include:
Soft skills such as active listening, trust, conflict management, servant leadership, emotional intelligence, mentoring, facilitation, change management, teaching, and powerful questions
Strong understanding of Scrum and Kanban
Experience as a Scrum master or any other role in Agile team
Strong communication and problem-solving skills
Interpersonal skills and patience
Agile Coach Compensation
Agile Coaches earn between $85/Hour to $135/Hour ($161,500 to $256,500 annually) if they work on a contract basis. For full time employees, earnings between $110,000 and $180,000 with benefits is prevalent within the US. Demand for Agile Coaches is expected to rise much faster than other IT roles. Experience, training and certifications, location, and industry are several factors that would impact expected earnings of Agile Coaches.
Agile Coaches do work in one or more of the following roles:
Agile Coach
Scrum Coach
Agile Team Lead
Lean Coach
Senior Agile Coach
Scrum Master/Agile Coach
Past Participants
Past participants of our Certified Agile Coach (CAC) training program came from variety of industries, including healthcare, banking, finance, credit card issuers, retail, oil and gas, manufacturing, distribution, transportation, communication and internet, energy, computer manufacturers, consulting firms, credit bureaus, network manufacturers, software, hardware, government organizations, satellite manufacturers, credit unions, and oil refineries to name several. Here are few of the 140+ organizations that our past participants represented:
Walmart, Kroger, Target, Accenture, USAA, Shell, ExxonMobil, Citibank, Master Card, Visa, Duke Energy, Bank of America, IBM, FedEx, Aetna, Anthem, CVS, Walgreens, Tesla, Verizon, Infosys, Wells Fargo, Bank of America, CapitalOne, USPS, US Bank, Blackrock, CBRE, TD Ameritrade, Wipro, Micron, Fannie Mae, Freddie Mac, Discover, Chevron, Ford, HP, Allstate, State Farm, Desjardins, Petrobras, Enterprise, US Coast Guard, US Department of State, UHG, FDA, SAIC, BCBS, HCSC, PepsiCo, Dell
Training opportunities for Agile Coaches
We at Chicago State University offer several career enhancing training programs for Agile Change Practitioners. Change Practitioners can pursue to attend one or more of the following training offered by us:
Certified Agile Coach (CAC)
Certified Agile Facilitator (CAF)
Certified Enterprise Agility Coach (CEAC)
Certified Agile Transformation Coach (CATC)
Certified DevOps Transformation Coach (CDTC)
Certified Business Agility Coach (CBAC)
Certified Agile Leadership Professional (CALP)
Certified Servant Leader Practitioner (CSLP)
Certified Emotional Intelligence Practitioner (CEIP)
Practitioners can earn a Master's Certificate in Agile Management (MCAM) by completing training programs 1-5. Practitioners can earn a Master's Certificate in Agile Leadership (MCAL) by completing training programs 6-9in additional to CACP .They can further their advancement by earning Advanced Master's Certificate in Agile Management (AMCAM) by completing training programs 6–9. Master's Certificate in Agile Management (MCAM), the Master's Certificate in Agile Leadership (MCAL), and the Advanced Master's Certificate in Agile Management (AMCAM) are the first and only such programs in the world!
Eligibility for Master's Certificate
Completion of this Certified Agile Change Practitioner (CACP) training program fulfills 20% of the requirement to earn Master's Certificate in Agile Leaderdship (MCAL). Participants are required to complete total of five Agile Training Programs from Chicago State University (CSU) to earn their Master's Certificate in Agile Leadership — the world's first and only program in Agile field!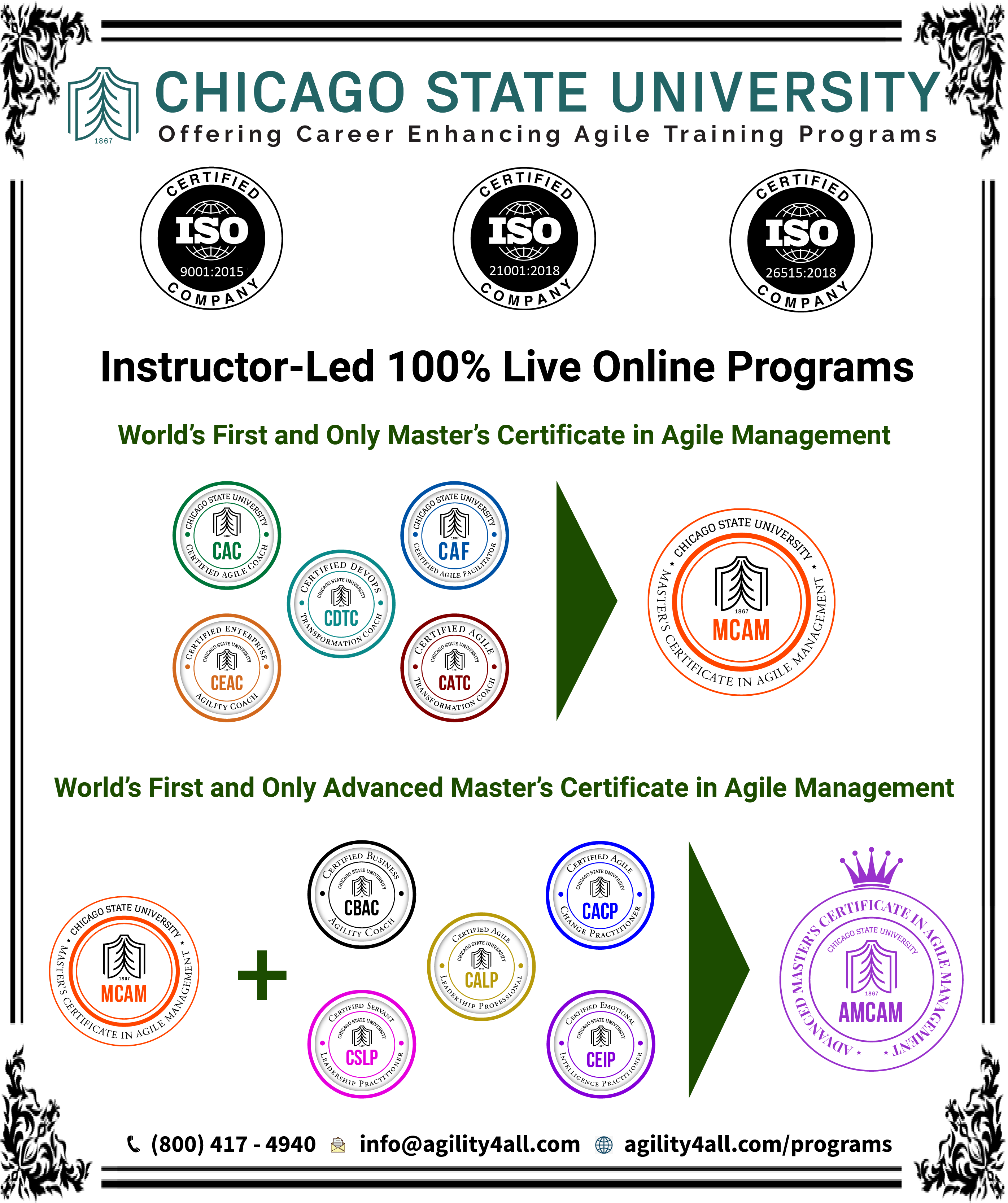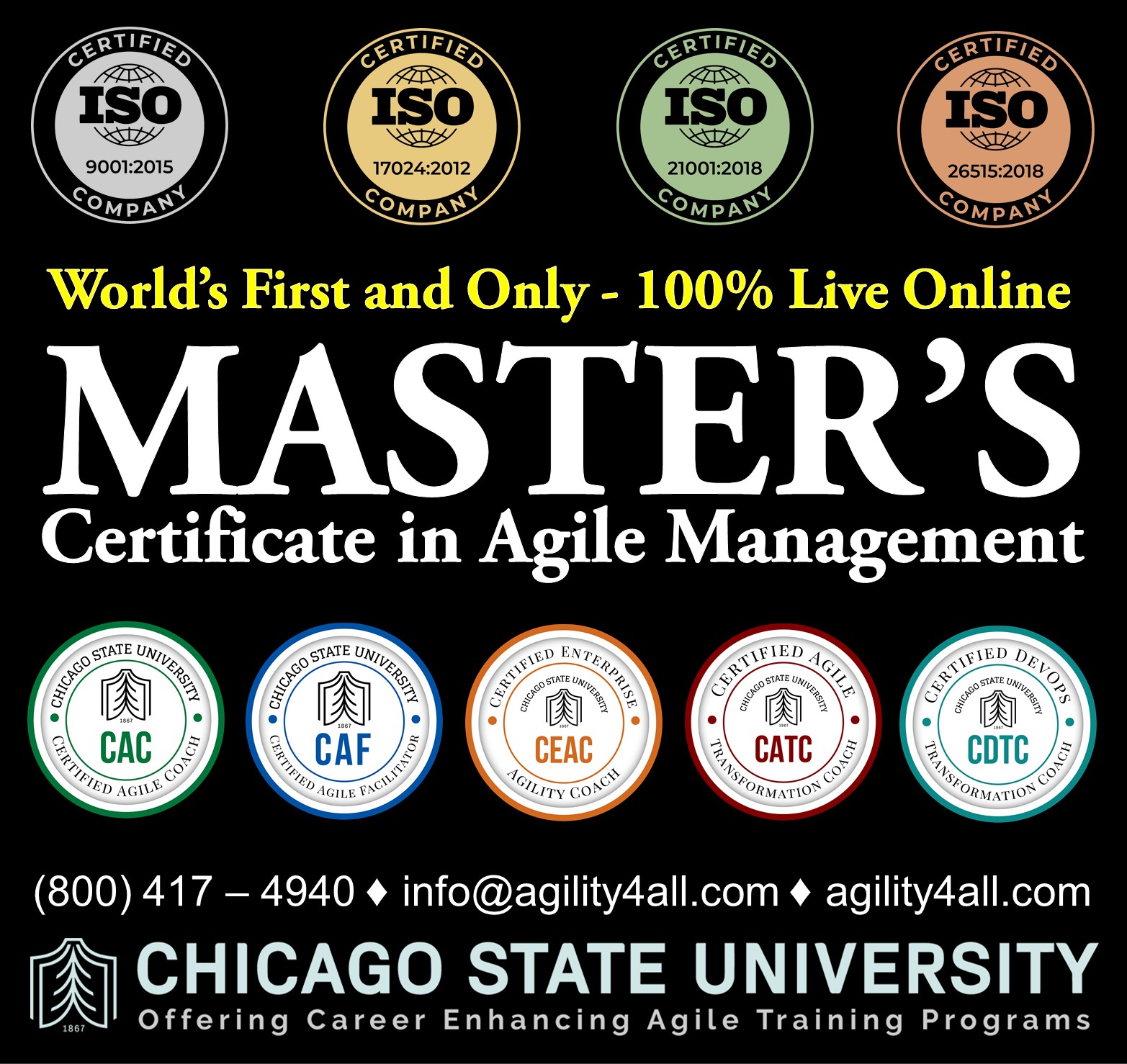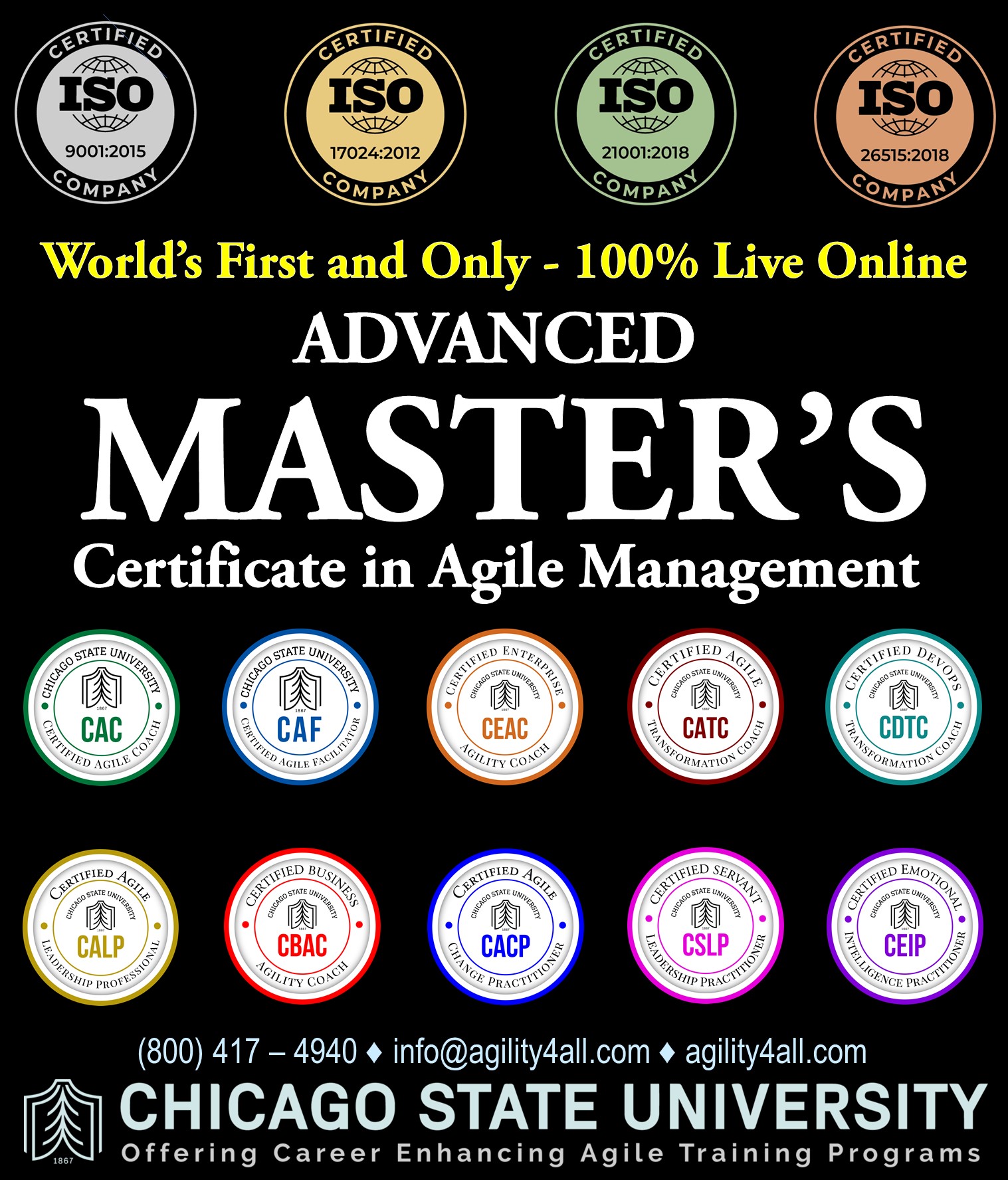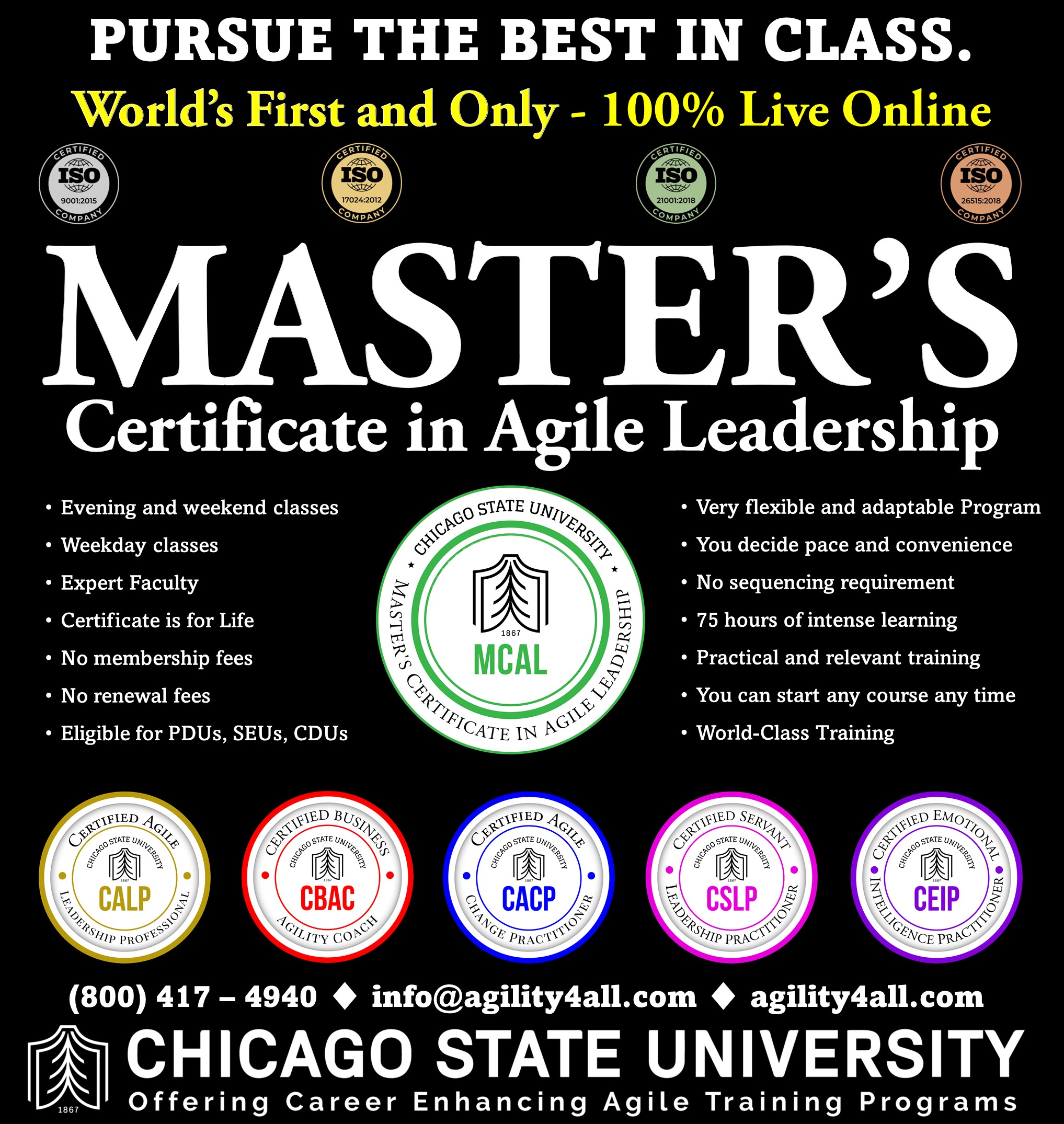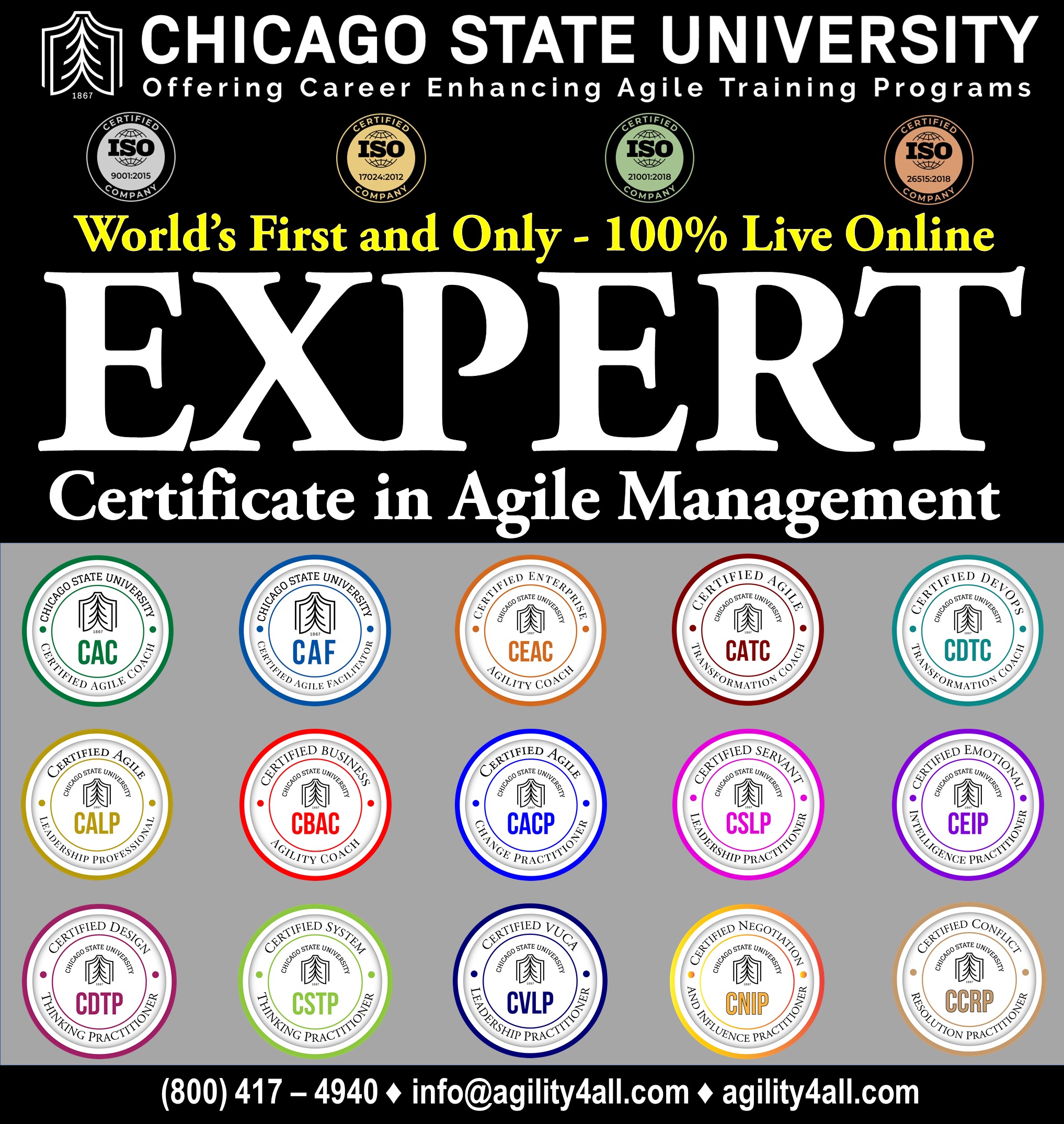 Certified Agile Change Practitioner (CACP)
General Information:
Type: Certification
Level: Intermediate
Time: Weeks
Cost: Paid
Verification:
Name: Margie Elliott
Course Schedule: February 12 – 13, 2022
Completion Date: February 13, 2022
Total Training Hours: 15
Certificate Number: 16-054-9973-81218
ISO Accreditation and Certification:
ISO 9001:2015: Yes
ISO 17024:2012: Yes
ISO 21001:2018: Yes
ISO 26515:2018: Yes
Information:
This Certified Agile Change Practitioner (CACP) training program and all other Agile training programs from Chicago State University (CSU) are
ISO 9001:2015, ISO 17024:2012, ISO 21001: 2018, and ISO 26515:2018 accredited and certified.
What is the purpose of ISO?
ISO (International Organization for Standardization) is an independent, non-governmental, international organization that develops standards to ensure the quality, safety, and efficiency of products, services, and systems.
How does ISO define quality?
The term "quality" has a relative meaning. This is expressed by the ISO definition: "The totality of features and characteristics of a product or service that bear on its ability to satisfy stated or implied needs"
Some of the main benefits of ISO 9001 certification include:
Suitable for both small and large organizations.
Better internal management.
Less wastage.
Increase in efficiency, productivity and effectiveness.
Improved customer retention and acquisition.
Consistent outcomes, measured and monitored.
Globally recognized standard.
What is the meaning of ISO 9001:2015?
ISO 9001:2015 specifies requirements for a quality management system when an organization:
a) needs to demonstrate its ability to consistently provide products and services that meet customer and applicable statutory and regulatory requirements; 
b) aims to enhance customer satisfaction through the effective application of the system, including processes for improvement of the system and the assurance of conformity to customer and applicable statutory and regulatory requirements.
All the requirements of ISO 9001:2015 are generic and are intended to be applicable to any organization, regardless of its type or size, or the products and services it provides.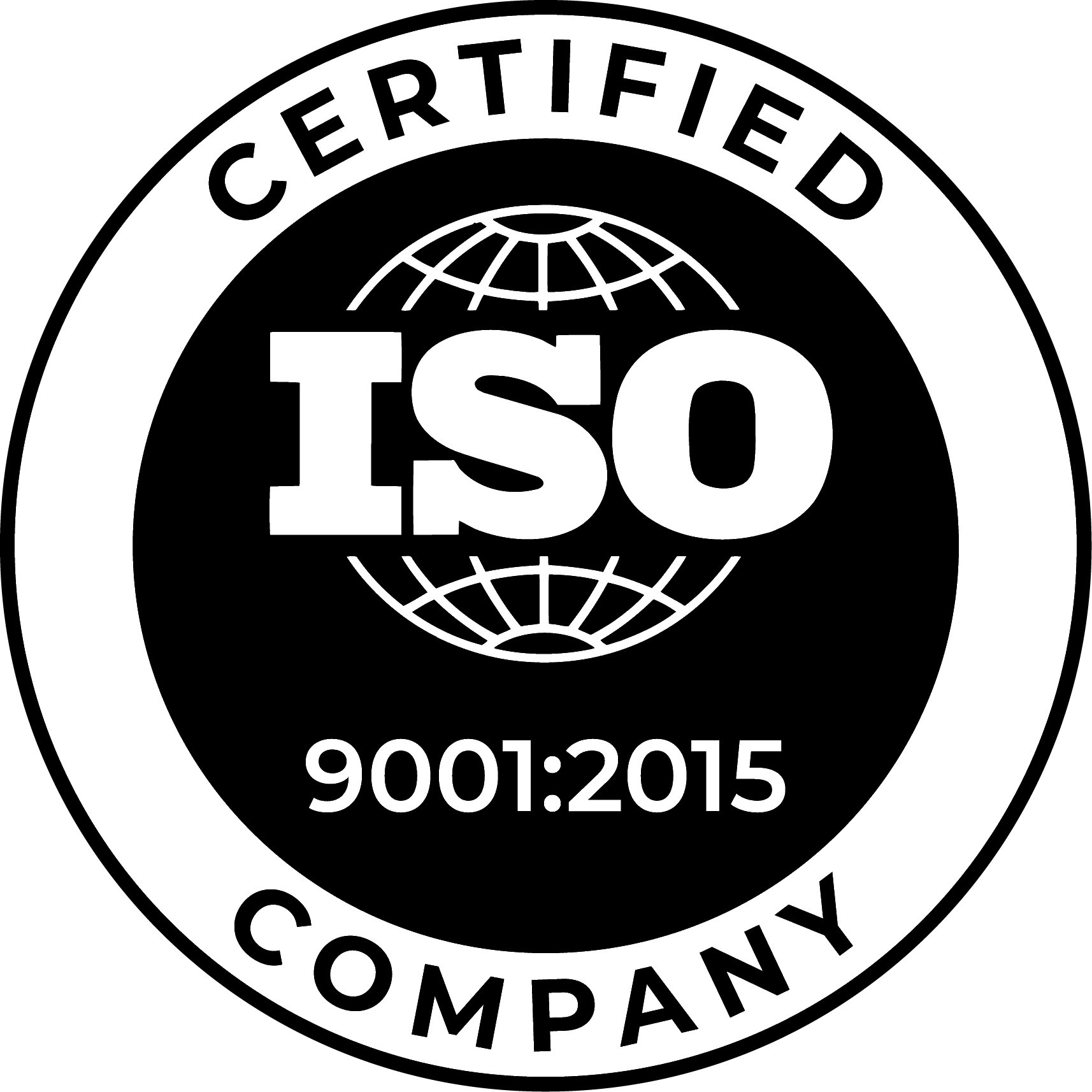 What is the meaning of ISO 17024:2012?
ISO/IEC 17024:2012 contains principles and requirements for a body certifying persons against specific requirements, and includes the development and maintenance of a certification scheme for persons.
The nature and complexity of the IT industry/Agile Industry has created hundreds of training courses and qualifications over the years. Many are vendor-specific and – in terms of training staff to configure and operate these products – provide a perfectly adequate demonstration of knowledge and skills. They are, however, often linked to the purchase of products and, as such, are subject to the commercial bias of a very competitive IT marketplace.
ISO 17024:2012 – recognized by employers worldwide
Independent and accredited exam bodies such as ISACA, (ISC)2, Chicago State University's Agile Training Programs, CompTIA, APMG, and IBITGQ have been created to counteract the commercial bias of vendors, and to provide consistent and comparable qualifications on an international basis.
But who verifies the independence and quality of the courses and exams offered by these organizations?
The ISO/IEC 17024:2012 standard (Conformity assessment – General requirements for bodies operating certification of persons) specifies that accredited exam bodies:
Meet a global, industry-recognized benchmark
Are consistent, comparable and reliable worldwide
Demonstrate that holders have the necessary knowledge and skills
Are validated to ensure they are recognized by employers and peers
Employers and training development managers recognize the value of ISO 17024:2012, and it's no coincidence that the careers of Agile Practitioner are built on the foundations of ISO 17024:2012 qualifications.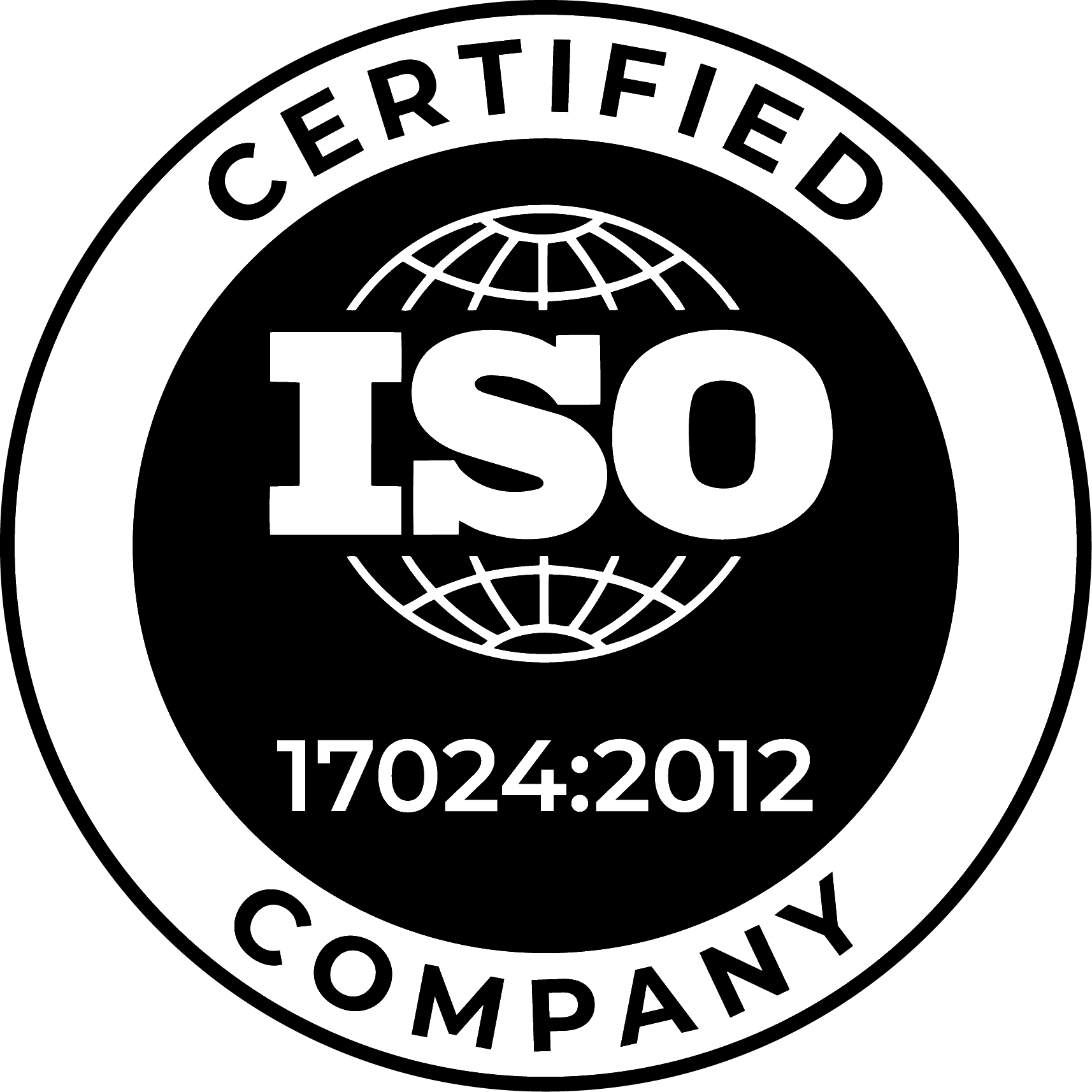 What is the meaning of ISO 21001:2018?
ISO 21001:2018 specifies requirements for a management system for educational organizations (EOMS) when such an organization:
a) needs to demonstrate its ability to support the acquisition and development of competence through teaching, learning or research;
b) aims to enhance satisfaction of learners, other beneficiaries and staff through the effective application of its EOMS, including processes for improvement of the system and assurance of conformity to the requirements of learners and other beneficiaries.
All requirements of ISO 21001:2018 are generic and intended to be applicable to any organization that uses a curriculum to support the development of competence through teaching, learning or research, regardless of the type, size or method of delivery.
ISO 21001:2018 can be applied to educational organizations within larger organizations whose core business is not education, such as professional training departments.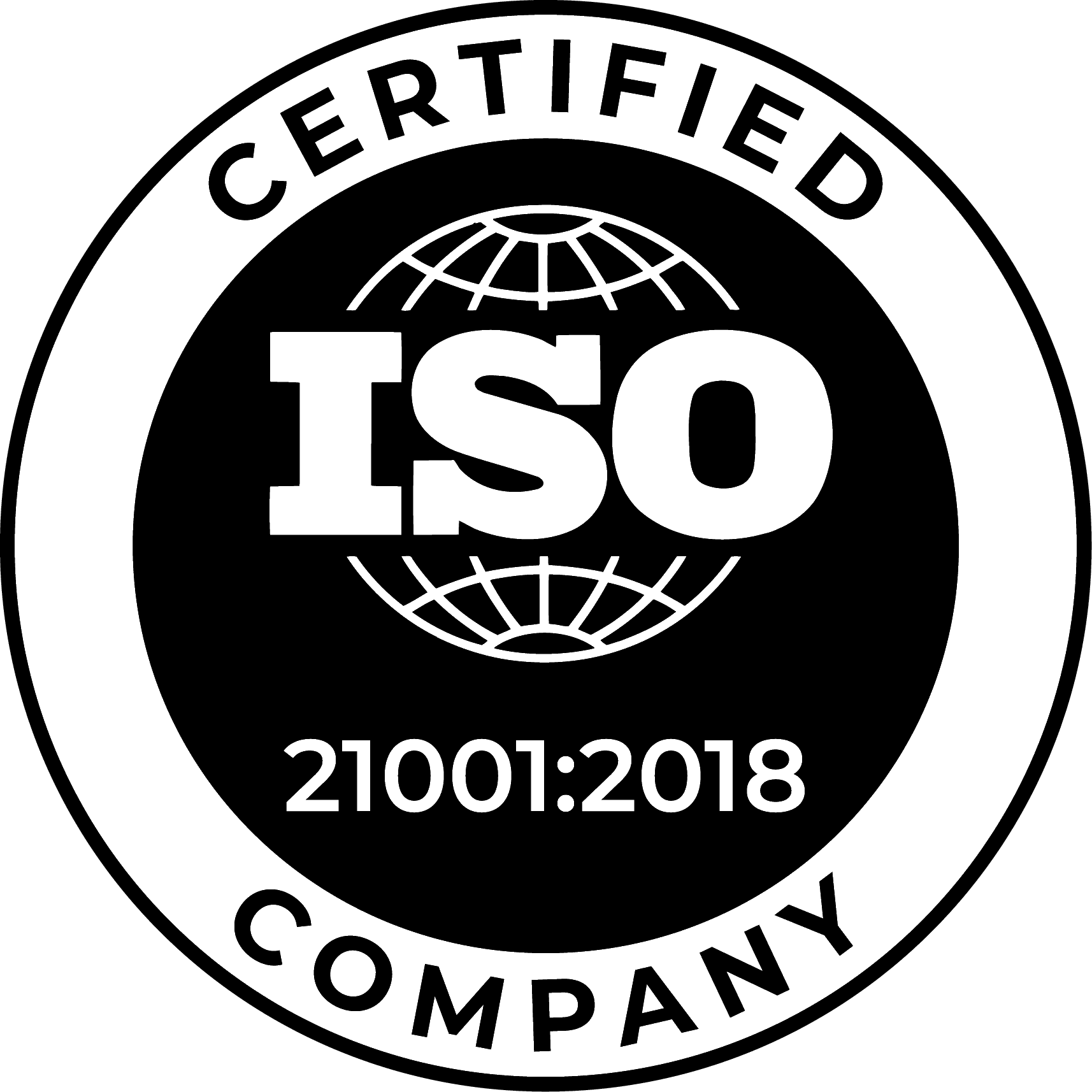 ISO 26515:2018 Systems and software engineering — Developing information for users in an agile environment
This standard supports the interest of information developers and associated roles responsible for producing information for users of software and systems developed within an agile environment. This standard takes a process standard approach to specify the way in which information for users can be developed in agile development projects.
This standard provides requirements of information management and information development processes appropriate for software projects that are using agile development methods.
It covers:
The overall requirements for information in agile software development.
Requirements for the information development lead or project manager to plan an agile information development project and manage the information development activities in an agile environment.
Requirements for designing, developing, and providing information for users in an agile environment.
Describes agile development practices and methods.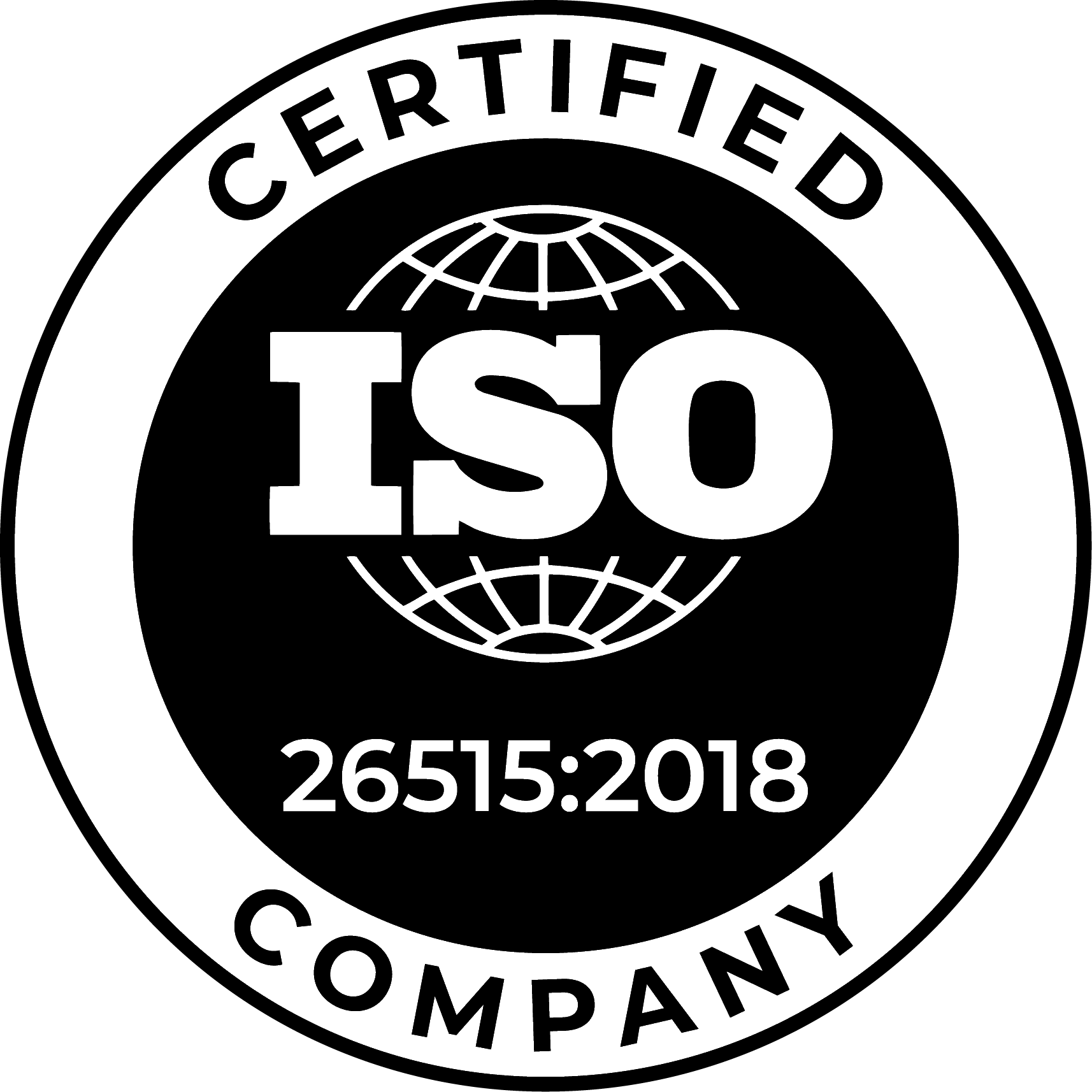 Skills:
Change Strategy
Change Management
Servant Leadership
Emotional Intelligence
Organization Change Management (OCM)
Change Management Models
ADKAR Change Model by Prosci
John Kotter's 8 Steps Change Process
Chnage Management in Agile Environment
Change Management – Overcoming Obstacles
Certificate Earning Criteria:
Attendance in the training course
Active participation in training course – Group Activities, Quizzes, Group Discussions, Q & A, Comments, etc.
CEUs Eligibility:
PDUs from PMI – 15 [PMP, PgMP, PfMP, ACP, and PBA certifications]
SEUs from Scrum Alliance – 15 [CSP-SM, CSP-PO, CSM, CSPO certifications]
CDUs from IIBA's – 15 [CCBA and CBAP certifications]
Course Description:
About Training
The Agile Change Practitioner Workshop is an Instructor Led Live Online training program that is offered through 10 sessions (weekdays) or through 2 sessions (weekends). Each session is one and half hour in duration (for 10 sessions) or seven and half hours (for 2 sessions). This training is unique and one-of-a-kind that focuses on:
Introduction to Change Management
ADKAR Model by ProSci
John Kotter's 8 Step Change Process
Organization Change Management
Change Management in Agile Environment
Successful Implementation of Agile Change Management
Challenges Faced by Organizations
This is a highly interactive workshop that makes ample use of discussions and exercises to help participants learn soft skills necessary to become a successful Agile Change Practitioner and drive and achieve sustainable Business Agility in the organizations.
The workshop will focus on change management skills and techniques as applied specifically within the Agile context.
Some of the elements that participants will learn during the workshop:
Different types of change
Why Change Management?
Three Levels of Change Management
Change Management Models
10 Principles of Change Mangement
Three stages of Organization Change Management
Five Building Blocks for Successful Change
ADKAR Change Model by Prosci for Individuals
A Holistic Model of Resistance to Change
Top Ten Steps for Managing Resistance
John Kotter's 8 Steps Change Process
Organization Change Management (OCM)
Drivers for OCM
Benefits of OCM
Types of OC Strategies
OC Models
The MindSpace Framework
Helping OC thrive in your organization
Change Quotient (CQ)
CQ – Leadership Styles
Managing Complex Change
Transformed Agile Ecosystem
Impact of Agile Development's Iterative Nature on Change Management
Greatest Contributors to successfully managing people-side impact in Agile Enrivornment
Obstacles to Applying Change Management in Agile Environment
Adaptions made to Accomodate Agile
agile vs Agile
Grow Your People
Change Management – Overcoming Obstacles
Learning Objectives
While mastering change management skills in the Agile context will require both time and practice, our class will enable you to:
Gain an in-depth and practical understanding of a wide array of techniques practiced by agile change practitioners .
Understand and practice change management practices at Individual level.
Practice and improve organization change management practices.
Understand Change Quotient (CQ) and leverage it to assess current change competencies and the gap.
Understand how to address some of the dysfunctional change behaviors you see preventing your organization from achieving maximum success.
Learn how to define, discuss, and achieve consensus with the teams for faster and better change management decision making.
Topics Covered
Introduction to Change and Change Management
ADKAR Change Model by Prosci
John Kotter's 8 Steps Change Process
Organization Change Management
Change Management in Agile Environment
Change Management – Can one person make a difference?
Change Management – Overcoming Obstacles
Pre-requisites
Knowledge of Agile Manifesto and Agile Methods (Scrum, Kanban, XP) would be helpful.
Interested to work in team environment with team members.
Willingness to learn and apply soft skills to teams.
Curious, eager, patient, and calm.
Who should attend?
This course is designed for:
Project, Program, and Portfolio Professionals who aspire to take up the role of an Agile Change Agent.
Scrum Masters, BAs, QAs, Agile Project/Program Managers or Iteration Managers who want a more comprehensive understanding of the complete range of business and Agile coaching skills.
Agile coaches who want to enhance and improve their professional skills as Agilists and professional coaches.
Coaches who wish to increase the ability to break through seemingly insurmountable problems with their teams.
Agile managers, product owners, and others wishing to access a broader range of skills in working with teams.
Skilled coaches who wish to polish their skillsets and learn a few new tricks and techniques.
Functional managers or Scrum Masters with some experience as an Agile coach, but when Agile seems like it is not working for your teams.
Someone coaching or mentoring Agile teams that get caught in a rut or just going through the motions and not making progress.
Contact Information:
Phone: (800) 417-4940
Email: info@agility4all.com
Corporate Training Inquiry:
training@agility4all.com